Library of Congress Receives Historic Recordings
'HistoryMakers' Archives Relocate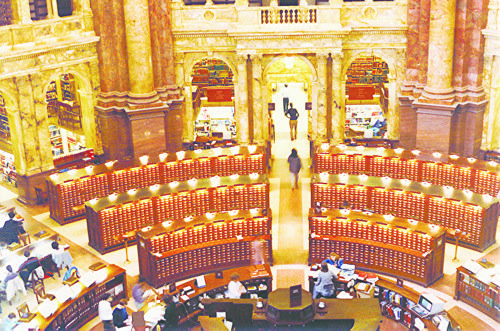 Amy Billingsley enjoys a fresh slice of bread every once in a while.
She also doesn't mind donning a red outfit and heading to her favorite vacation destination in Jamaica.
That she loves bread, the color red and she enjoys the popular West Indian island are but a few anecdotes highlighted in the "HistoryMakers" collection which features, among many others, the Chicago-born Billingsley who serves as the assistant secretary of labor at the U.S. Department of Labor and who's lived in Southwest Washington, D.C. since 1970.
"I've lived a lot of places, but the District is absolutely the best," she said. "I'm most proud that I'm able to connect with so many people and the District is a perfect place for connecting."
Since 1999, "HistoryMakers" founder Julieanna L. Richardson has herself connected with many individuals.
Richardson recorded African-American history, which she said counts as an effort to create a more inclusive bibliography and to educate individuals around the globe about African-American life and culture and the struggles and achievements of the black experience.
A political consultant, Billingsley, 77, comes from a household headed by leaders in education, Herman Tate and Inez Duke Tate.
Billingsley, whom Richardson profiled in 2003 for the "HistoryMakers" recording, spoke glowingly of her great-grandfather, Jesse Chisholm Duke, who served as a prominent newspaper editor and activist in Montgomery, Alabama and in Pine Bluffs, Arkansas during the 1880s and 1890s.
"At that time the conservatives didn't want black people coming around who were educated because they said they were corrupting their good black folk," Billingsley said. "Apparently, the controversy was that Booker T. Washington had just set up Tuskegee and they were afraid that if there were educated black men, the white women would be interested in them."
Award-winning news producer and author A'Lelia Bundles, who lives in Friendship Heights, also counts among the "HistoryMakers," which include President Barack Obama, Ward 8 Council member Marion Barry, actor and activist Harry Belafonte, music producer Quincy Jones, arts patron Peggy Cooper Cafritz, activist Angela Davis, Rep. John Lewis and so many other African Americans who have been recognized as trailblazers.
Bundles, a Harvard graduate and a pioneering producer with NBC News, received her name from A'Lelia Walker, her great-grandmother and a prominent figure of the Harlem Renaissance who's the daughter of the famed Madam C.J. Walker.
"I was pleased to not only be able to have the story of my life told, but the stories of these amazing African Americans who are pioneers who helped pave the way for the rest of us," said Bundles, 62, who has written books about her life and Walker.
"Part of what Julieanna Richardson does is not just look at the headline names but hundreds of thousands of those who came before. As for me and my family history, growing up, you didn't make a big deal out of it and my parents let me discover it on my own," she said.
In June, the U.S. Library of Congress in Southeast acquired a video archive of thousands of hours of interviews from Richardson.