Color Blind: NCAA Officials Insist They Encourage Hiring Black Coaches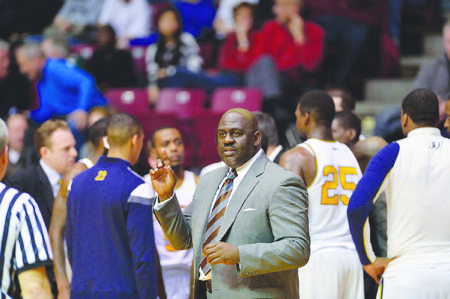 The hierarchy of the NCAA isn't pleased with the lack of African-American head coaches in Division I men's basketball.
While member colleges and universities ultimately make their own personnel decisions, the association advocates for an inclusive hiring process to include underrepresented applicants, said two NCAA officials who noted they're very much aware of The Washington Informer's recent special reports about the dearth of black head coaches in the sport.
"The NCAA promotes a system that allows the best candidates to be considered, regardless of race, ethnicity or gender," said league spokeswoman Meghan Durham.
"As it has for many years, the NCAA implements and supports professional development programs for individuals who aspire to be head coaches, such as our NCAA coaching academies," Durham said.
Stacey Osburn, head of media relations at the NCAA in Indianapolis, said the association can't legally mandate or be involved in the hiring process at the campus level, but members of it's Office of Inclusion has been meeting recently with a roundtable of search firms to address the recruitment process for coaches and administrators of color to discuss the best ways to add greater diversity to the candidate pools.
In other words, she said, they are being proactive in finding a solution that will result in more hires of qualified black candidates.
"The NCAA and its member schools provide a number of best practice guidance regarding the importance of an inclusive hiring process," Osburn said.
While the NCAA investigates, blacks continue to be shut out with many unable to land an interview.
Horace Owens, one of college basketball's most respected figures who has served a decade as assistant coach at La Salle University in Philadelphia, said he couldn't answer as to why more blacks haven't received head coaching positions.
Owens, 53, whose La Salle Explorers have won 165 games during his tenure under head coach John Giannini, has been credited with being instrumental in the team's 2013 Sweet 16 run in which they also won 24 games, including three in the NCAA Tournament.
Like Owens, many qualified African-Americans have patiently waited for a chance to lead a program, some of whom have already experienced success as a head coach, like Karl Hobbs of UConn and Anthony Solomon of Notre Dame.
Others have toiled along the sidelines as top-level assistants and have contributed heavily to their programs, including Owens, Charles Payne at Stanford, Roland Houston at George Mason, Jason Williford at Virginia and Kurt Townsend at Kansas.
"There is absolutely nothing preventing these guys from being heavily considered," said Brian Ellerbe, the Seat Pleasant, Maryland born former coach who once served as head men's coach at Loyola-Maryland and the University of Michigan.
"Karl Hobbs has a great record as head coach with three conference titles and two rings," said Ellerbe, 50. In 10 years as a head coach, Hobbs captured two Atlantic 10 championships, one regular season title and he led his team to five postseason tournaments. As an assistant at UConn, Hobbs went to the national championship round twice.