Nigerian Students Welcomed in P.G. County
William J. Ford | 7/30/2014, 3 p.m.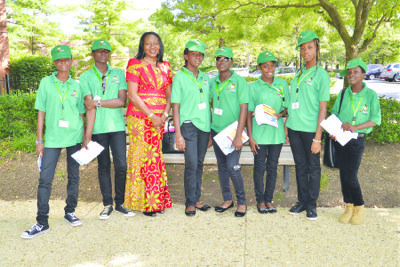 Ten Nigerian teenagers listened and smiled as local dignitaries showered them with accolades for their participation in a Global Youth LeaderShape Summit.
But Oyenenyin Folajomi couldn't contain her excitement.
"When I was told I was able to come here, I sang 'Party in the U.S.A.'" said the 14-year-old student who hopes to become a neurosurgeon. "I can't wait to see everything."
The Legacy Premier Foundation of Hyattsville hosted a welcome ceremony July 28 for the teens to discuss its youth summit. The nonprofit organization's main goal is to teach the first-time U.S. visitors about American culture, learn business and leadership skills and interact with American students and adults with similar interest.
A schedule distributed at the Prince George's County Economic Corp. in Largo shows the group plans to tour some of the nation's most historic and influential buildings in the District: the White House, the U.S. Senate and the U.S. House of Representatives. The students will also visit the International Monetary Fund and The World Bank in Northwest during their 12-day stay in the United States.
The teenagers, who attend secondary schools in Nigeria based on classes and not grade levels in U.S. high schools, will have some free time to visit different restaurants and shops around town.
"I want to buy a T-shirt," said Adegboye Adegboyega, 16, who has his heart set on becoming an economist. "I hope to learn a lot and share with my friends back [in Nigeria]."
While visiting Richard Montgomery High School in Rockville and strolling around the campuses of Bowie State University in Bowie and Johns Hopkins University in Baltimore, the students will attend the U.S.-Africa Leaders Summit Aug. 4-6 in Washington, D.C.
President Obama will welcome African leaders from the continent at the inaugural summit. The theme, "Investing in the Next Generation," will feature forums at various locations in Northwest to discuss investment opportunities, peace measures and health initiatives.
The county's Africa Trade Office highlighted in a summary four key factors the administration should focus on to improve its relationship with Africa: "U.S. trade and investment in Africa," "U.S. commitment to Africa's peace and security," "Governance and democratic institutions in Africa," and "Empowering the African people."
The recommendations will be sent to the White House prior to next week's U.S-Africa Leaders Summit.
"You are the next generation. You are the future African leaders to help your country and the world," Dr. Frank Forka, director of the county's Africa Trade Office, told the students.
After the administration's summit ends, the county's Economic Development Corp. will host its second annual "Gateway to Africa Gala" from 8-11 p.m. Aug. 8 at Martin's Camelot in Bowie. Individual tickets are $100 to attend the social event celebrating African-owned businesses in the county.
Remi Duyile, executive director of the Legacy Foundation, said she left Nigeria at age 17 in 1982 to seek the American dream. She graduated from the University of the District of Columbia in 1986 with a Bachelor of Science degree in economics and a minor in accounting. One year later at UDC, she received a master's degree in business administration concentrating on international finance and banking.
"I am leaning on the shoulders of people who have been a blessing to me and to my children. I owe it to the young leaders that have come and will come [to America] to help them," said Duyile, who established the foundation seven years ago. "We want [the Global youth leaders] to experience, express and really enjoy the American dream and culture …"
Before the ceremony ended, the students received some advice on being able to influence the world through modern technology.
"Why is that important? We have new communication systems in place where all you have to do is push a button and things go over the Internet … instantly," said Dr. James Dula, 65, a foundation supporter and president of his own consulting firm. "You are part of a big new world … to connect in trade, communication and from a personal and cultural standpoint. We are all family living in different places …"