Parents Rail Against D.C. School Closure Ruling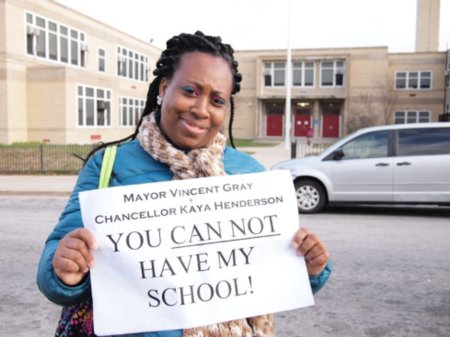 Despite a federal judge's ruling that the mandated closings of 15 neighborhood schools in January 2013 had nothing to do with race, a group of African-American parents whose children have been affected, vow to keep the matter front and center.
Sequnely Gray, who's had two children displaced in Chancellor Kaya Henderson's aggressive education reform efforts, said she and several other parents who filed a lawsuit challenging the discriminatory impact of the closures, take issue with Judge James Boasberg's July 18 ruling and plan to appeal.
"In just about every neighborhood where a school has closed, it has been in a predominantly black community," Gray, 33, said, stressing that most of the closings took place east of the river in wards 5, 7 and 8. "That's blatant racism," she said. "It's interesting that when you look at the demographics for how they closed the schools, they're mostly in neighborhoods where charter schools have popped up. I mean this stuff is self-explanatory."
Meanwhile, Boasberg who ruled in favor of Henderson and Mayor Vincent Gray in the original case, said recently that issues of school privatization are best decided by the voters in the city's upcoming mayoral election, rather than by the courts.
However, officials for the grassroots organization Empower DC, said in a statement immediately following Boasberg's ruling that while the judge acknowledged that the closures impacted black students disproportionately, he denied any evidence of racism.
Empower DC, which promotes self-advocacy among the District's low- and moderate-income residents, retained local civil rights attorney Johnny Barnes to file the original lawsuit in March 2013 to block additional school closings that had already displaced more than 2,000 students.
"We were not surprised by this ruling, as the judge signaled his posture from the outset. We however are not deterred and will appeal," said Barnes, 66. "The rise of school closures in black communities, the undue influence of private funders who profit from school privatization – this is Brown v. Board 2.0. There are disputed facts in this case and the judge should have allowed them to be considered by a jury."
More than a year later, amid unwavering parental and community push back, school officials have started to rethink a handful of the closings.
To that end, a proposal surrounding the ongoing school boundaries issue suggests reopening Ferebee-Hope Elementary in Southeast along with MacFarland Middle in Northwest and three other buildings.

Camolee Williams, whose two children attend schools outside of their community, said she's all for reopening schools in her neighborhood if classes will be smaller.
"If they did that, a lot less students would be struggling," said Williams 45, who lives in Southeast but sends her children to schools in Northwest.
"That's because there were so many schools in our community that had been dealing with low test scores," she explained. "As for reopening certain schools, it's not the fact of officials admitting that they moved too fast closing some of the schools, but now that they see the whole situation more clearly, it's time to rectify it."