Young Inventors Take Thingamajig by Storm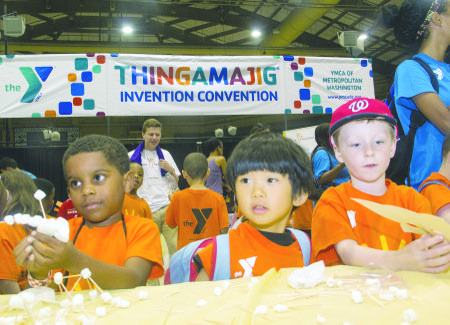 For one glorious summer day last week, thousands of young people enjoyed the fruits of their creative labor.
They turned the Show Place Arena in Upper Marlboro into an inventor's paradise where the YMCA displayed more than 400 of their projects, such as cool rides, hats, accessories, construction models of rooms, buildings and apartments, inventions that light up, make sounds and move and much more.
Over the course of the prior month, the children, their parents and their counselors thought of and then fashioned all kinds of objects built around the concepts of STEAM – Science, Technology, Engineering, Arts, and Mathematics. One stipulation: all inventions had to be built from recyclable materials.

"I helped prepare them for Thingamajig. We had 'Rocking Robots', a fashion show called 'Trashion Fashions,' and they made accessories, such as a hat from newspaper. They used double wrap, old sheets, T-shirts, soda caps and egg cartons," said Davida Alston. "They weren't allowed to use glass or metal."
Alston, who has spent the summer with 120 young people at the YMCA's Power Academy as a counselor, said the children's enthusiasm and inventiveness have thrilled her.
"Seeing their faces there was special. They didn't know what to expect. It was heart-warming for them to see what other people made," said Alston, 22. "There were 15 total challenges for them to choose from. I broke it down. I chose five topics and from that they created things – newspaper skirts and other inventions. They loved it."
Alston said one child won a bicycle, another won for an inventive dress, and two of the robots created by the children she guides came in 2nd place. In the four weeks they had to prepare, the children benefited from working as a team, she said.
Alston, who's worked at the YMCA for the past six years, said she's usually been at the camp in other roles but this year helped solely with Thingamajig.

"I got a chance to be on the other side, in the Makers' Club," the Clinton, Maryland resident said. "I encouraged them to think outside of the box, focused on seeing where their mind was. They would go through a sketch process, then go home and make things."
She said various activities, including a STEM workshop prepared the young people for Thingamajig.
Jackie Dilworth, director of communications for YMCA of Metropolitan Washington, said Thingamajig has been a vital part of the YMCA calendar for the past 20 years.
"We saw a need for it even then, in the early '90s," she said.
YMCA guests included the National Aeronautics and Space Administration (NASA), the Federal Aviation Administration (FAA), the Navy, Giant Food, Washington Gas, the Defense Department, the Patriots Technical Training Center, and the Crime and Punishment Museum.
Dilworth said the 15 categories on which the children were judged centered on creativity, eco-friendliness and functionality. They could work on the challenges by themselves or in teams.
Students submitted 400 projects and 4,029 participants took part in the regional event on July 24, while 400 volunteers ensured that everything ran smoothly.