NAACP Praises Initial 'Brother's Keeper' Report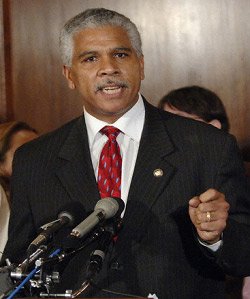 The NAACP lauded the initial task force report for "My Brother's Keeper" — President Obama's initiative to help young black males succeed in America — as a sign that the program is on the right track.
The report released Friday calls for a comprehensive approach to solving problems that black boys and young men often face, including lack of high-quality elementary and secondary education, as well as academic assistance during college and post-college job opportunities.
Alternatives to incarceration and breaking down barriers to re-entering society are also recommended, a fact not lost on Hilary Shelton, director and senior vice president for advocacy and policy at the NAACP's Washington bureau.
"We echo the report's call for many of the recommendations, including a national mentorship program that provides young men with guidance and support," said Shelton, who has lobbied Congress, the White House and federal agencies for decades. "A call to plug the school-to-prison pipeline, by ending excessive school suspensions and expulsions, is a recommendation that should be expeditiously and comprehensively executed among the recommendations. We must also capitalize on every effort geared toward amplifying cradle-to-college-and-career strategies."
Sammie Dow, the youth and college director for the organization, agreed.
"We know that young people of all stripes flourish when they have access to high-quality education, when zero tolerance school disciplinary policies are eliminated and reliable mentors are present," Dow said. "We know that there is still much work to do but believe that this report is an example of the type of progress our youth deserve."
Obama launched the initiative at the White House in February, touting it as a multi-agency effort to secure economic, political, social and cultural opportunities for young men of color.