D.C. Parents of Black, Latino Students to Hold Protest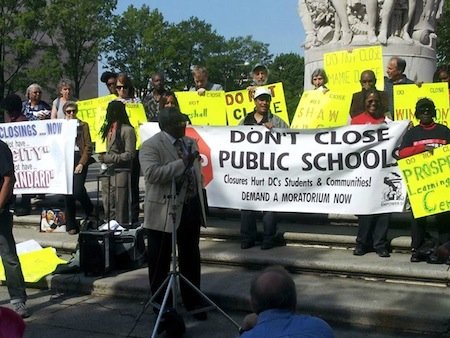 Parents of African-American and Latino students in D.C. public schools will hold a demonstration Monday evening in protest of what they say is the systematic denial of their participation in education-related matters, particularly the mandated closings of 15 schools in low-income communities.
The event, which is sponsored by community advocacy organization Empower DC, will take place 7 p.m. at McKinley Senior High School in Northeast.
The gathering will include a press conference, during which parents will share their stories of being unjustly denied the opportunity to participate in the education of their children, according to an Empower DC statement.
"Parents of color are being pushed out of their schools' for exercising rights bestowed to them under the constitution of this country," said Daniel del Pielago, a spokesman for the group.
Empower DC, which last year filed a lawsuit against the city on behalf of parents opposing the school closings, contend that parents of color are increasingly denied the basic vestiges of grassroots democracy.
"Expressing [their] voice, meeting to organize and plan and having any divergent thoughts or goals from school administration, are now offenses that could end up having [parents] removed from a school," del Pielago said. "If they step out of line [black and brown parents] are labeled troublemakers and forced out of their school. This is starkly different to the rights parents enjoy in more affluent neighborhoods in D.C."