D.C.'s Streetcar Project Touted as 'Great' Economic Tool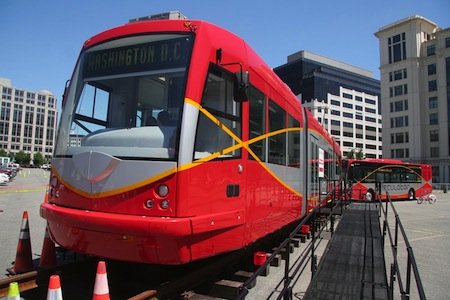 It's been nearly three years since the D.C. Department of Transportation announced plans for the city's first street car system — in more than a half century — to roll along the H Street corridor in Northeast.
But the multimillion-dollar economic development project, which could potentially create more than 7,000 jobs and as much as $8 billion of development for the city over a 10-year period, might finally get the green light this fall.
"That's the goal, but at this point we have been loath to give dates, primarily because of the appearance that we've missed some scheduled dates," said Thomas Perry, DDOT project engineer.
Perry, who heads the streetcar project, said the main line on Benning Road has been completed.
"The next major milestone is to complete the temporary maintenance facility on the site of Spingarn High School, which is moving toward completion," he said. "Once that's done, officials can complete the testing and then move forward with certification for passenger service."

Once the new mode of transportation starts to roll, it's expected to make travel around the city easier for residents, workers and tourists. The District's expanded transportation system will also complement existing transit options and could ultimately provide another way to reach the National Harbor in Oxon Hill, Maryland.
"It's a line item for probably connecting the southern portion of the city. It's something we've lent focus to but we haven't moved forward on," Perry said. "It's a study that may or may not happen. But as we're developing our budget, we kind of have to put in those line items."

So far, DDOT has developed a 2.4-mile segment on the H Street-Benning Road corridor that goes to Union Station. That development has allowed the next phase of construction — which entails a 22-mile route — to move forward. As a result, officials hope to connect streetcar service to all four quadrants of the city.
"That's our long-term plan — to improve mobility as well as to spur economic development," Perry said. "The eastern expansion will concentrate either on the Minnesota Avenue Metro station and/or the Benning Road Metro Station, and then looking back west from Union Station to Georgetown, for what we will call the One City line.
"Right now, our testing line will eventually connect to the downtown area, as well as points north," he said. "We'll be looking at connecting the Joint-Base area, as well as the Anacostia metro with historic Anacostia and then over to downtown."
But while the streetcar service will add plenty of revenues to District coffers, some residents — particularly those in the Spingarn-Langston area of Northeast — yet to fully come around to the idea.
Demetrus Lee-Watson lives in the Benning Road area, where traffic in recent years has often been congested during construction of the streetcar tracks and the first stages of testing. She told an NPR affiliate the money spent on the project would be better used to feed and house the scores of homeless people in the community.
"We live over here. We know what is going on," she said. "There are a lot of people out here who are hungry and have no money. They need to do something about that, and then bring back the streetcars."
Mayor Vincent C. Gray who opposed the D.C. Council's recent vote to decrease funding for the streetcar project by more than 50 percent, insisted during a May 29 address at the Mount Vernon Triangle Community Improvement District's annual meeting that streetcars are a "great" economic development tool, citing the success in Portland, Oregon, as proof.
"See what they've done over the last 12 or 14 years, " Gray said. "They have added somewhere between $3.5 billion and $4 billion of development as the result of their streetcar system.
"What is the future of the streetcar program in the District of Columbia?" he said. "As of this moment, I really can't tell you, but I hope that [the Council's vote] doesn't sound the death knell for something that was going to be a major addition to this city."