Ruben Studdard, Lalah Hathaway to Headline Concert at Howard Theatre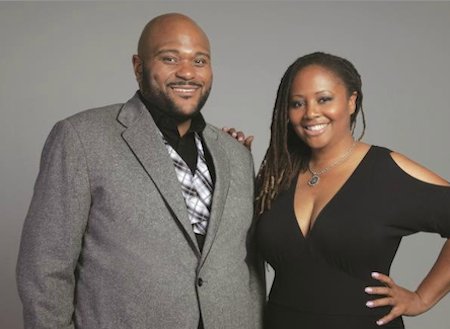 She's the daughter of the late, great Donny Hathaway and a 2014 Grammy winner.
He's toured with Peabo Bryson and CeCe Winans and many know him as the 2003 "American Idol" champion.
Together, Lalah Hathaway and Ruben Studdard are treating District area fans to a concert at the historic Howard Theatre in Northwest on Thursday, June 12, as part of the duo's "Meant to Be" tour.
"We'll perform together, have a full band, and do some songs separately," said Studdard, 35, who found fame as the season two winner on Fox television's popular singing competition show "American Idol."
"I think it's going to be a great show, and people will get their money's worth," Studdard said in a previous interview.
Known as the "First Daughter of Soul" Hathaway, 45, has released a string of successful hits including, "Baby Don't Cry," "Heaven Knows," "Let Me Love You," and a tribute to the late Luther Vandross, "Forever, For Always, For Love."
Hathaway captured her first Grammy award for Best R&B Performance earlier this year with the hit song "Something" with Snarky Puppy.
Previously, she received a Billboard BET on Jazz award for her 1999 jazz album, "The Song Lives On."
"This should be a treat to see [Hathaway and Studdard] on the same bill," said Christine Wilkins, 43, who lives in Northwest. "I have great respect for the both of them because there are no machines, no lip-synching, they sing and that doesn't always happen at concerts these days."
Melissa Upton, Wilkin's cousin who also lives in Northwest, said she looks forward to the June 12 show which begins at 8 p.m.
"I think this should be a great concert and the best part about it is that they are going to be in my neighborhood, in my part of town and they are two talented entertainers," said Upton, 41. "The Howard Theatre has blessed us with some great talent and Ruben and Lalah are no exception. It should be a good night out."
Studdard, who returned to reality television in 2013 on the "Biggest Loser" show where he lost 119 pounds, recently released a new album, "Unconditional Love," which blends timeless classics and new compositions.
He said it's an album that he regrets not making immediately after his "American Idol" victory. His latest single, "Meant to Be," might be one of his best, he said.
"It's an inspirational song that we wrote while I was on the 'Biggest Loser' and it has a lot of meaning in my life," Studdard said.
Produced by David Foster, the new CD presents a more mature Studdard who proved his growth as an artist while recording tunes for the album, Foster said.
"A lot of singers can deliver, but Ruben is very exposed and you've got to be able to sing … to do this kind of an album and he did that."
The album also features a duet with Hathaway of the Marvin Gaye and Tammi Terrell hit, "If This World Were Mine," which Vandross and Cheryl Lynn also covered.
"It's another opportunity to walk in the footsteps of people I admire like Marvin and Tammi and, of course, Luther," Studdard said.
"For this concert, I'm really looking forward to connecting with the core audience that stuck with me from the beginning," he said. "It's been a wonderful journey, so far."
Tickets for the show are $49.50 in advance, $55 the day of the show, and $90 for VIP reserved floor seating. To purchase tickets, or for more information, visit www.thehowardtheatre.com.