Ballou Student Accepts Prestigious Peabody Award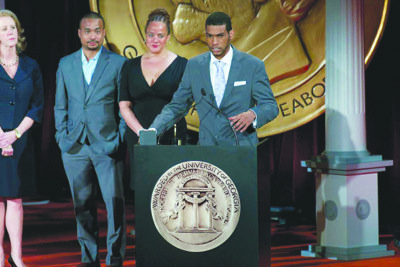 There used to be a time when Rufus McDowney couldn't have cared less about school.
If he wasn't skipping classes every chance he got, the troubled teenager had fun hanging out with the wrong crowd and getting into all kinds of trouble.
"After my mother died, it was a real struggle for me, especially with my school attendance," said Rufus, 18. "Then I had some other family and personal issues that I was dealing with. It was a lot, a whole lot that was going on," he recalled. "I relocated to Maryland to live with some family members, and was arrested again and ended up in a group home."
Meanwhile, Rufus entered Washington Metropolitan High School in Northwest as a 9th-grader.
But before he left – later transferring to Ballou Senior High School in Southeast – he landed a feature role in a film about his daily routine at Washington Metropolitan.
The film, "180 Days Inside an American High School," ended up winning a Peabody Award – the most prestigious in the category of electronic media.
"The [documentary] chronicles a year in the life of students at Washington Metropolitan High School, and Rufus was one of five that we followed during filming," said Jacquie Jones, director of the four-hour series that initially aired in March 2013 on PBS.
"We were [at the school] every day during the 2011-12 school year, and at the time Rufus – who was in the 10th-grade – had just lost his mother," Jones said. "He'd also had several [run-ins] with the juvenile justice system."
However, as the film progressed, Rufus, began to turn his life around.
"I was thinking about where my life was headed and where I wanted to be in about 10 years," he said. "Once I made up my mind to get it right, it really wasn't a hard decision for me. I took notice of the potential I had and the influences around me."
Rufus, who is set to graduate on Saturday, June 14 during commencement exercises on the campus of Howard University, said that at first he felt uncomfortable having the cameras follow him every day.

"But after a while, I got used to it, and then it was as if the cameras weren't even there," said Rufus.
He said that by the time he arrived at Ballou, he'd not only changed his ways, but when he turned 18 several months ago, he decided to live alone as an independent student.
"It's a lot of responsibility but I've been balancing three jobs most of the year to pay for rent, food and clothing," said Rufus.
"I've done it all while maintaining a 3.0 grade point average," he said, adding that in the fall, he plans to attend the University of the District of Columbia to major in criminal justice.
Jones said that due to Rufus' rebellious behavior at the beginning of the filming, the film's crew wondered if he'd finish high school.
"It just happened that when we found out about winning the Peabody Award, the next day Rufus called us to invite us to his graduation, and we were thrilled," said Jones. "That's when we had the idea for him to accept the award [on May 19 during ceremonies in New York City] on our behalf."
Ballou counselor Kira Rowe said Rufus has been an inspiration to his peers.
"I saw the documentary prior to Rufus enrolling at Ballou, but it took me a while to realize he was the Rufus who's in the film," she said. "He's extremely mature and has made the honor roll every quarter since he's been at Ballou. He's been an inspiration to the students at Ballou. Everyone's rooting for him."
However, no one can be more proud than his father, Eric Lee, who said his son's record of achievement speaks for itself.
"I don't like to look back in time and revisit Rufus' negative past. I'm looking forward," said Lee, 52. "I know my son, so I was well aware of his potential – and he's done exceptionally well for himself."