D.C. Political Roundup: Alexander Decides Against At-Large Bid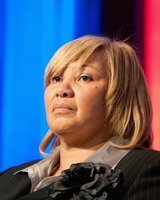 D.C. Council member Yvette Alexander (D-Ward 7) used her better judgment and has decided not to run as an independent at-large candidate in the upcoming general election, and her constituents agree that she made the right decision.

"I value her tenure on the D.C. Council," said Miles Steele III, 75. "I admire her wit and her knowledge about the city. I think she is doing a good job and I think she is doing [as a Ward 7 council member] what is best for her and the community."
Alexander, 52, won the special election in May 2007 to replace Vincent Gray as the Ward 7 D.C. Council member. The special election took place because District voters elected Gray as the chairman of the D.C. Council in November 2006.
Alexander won re-election in 2008 and in 2012 but in April she considered a run as an independent for one of the two at-large seats on the D.C. Council. The reaction in Ward 7 and across the city caught her by surprise.
Last week, Alexander said that she will definitely not run in the general election. However, she will run for re-election in 2016.
Constance Woody, a longtime community activist in Northeast agrees with Steele, but for different reasons.
"I think she made a wise decision not to run at-large," said Woody, 79. "She needs to remain as the Ward 7 council member. In order for her to run at-large as an independent, she would need the support of the Ward 7 Democrats and I don't think she would have that."
Alexander encountered strong resistance to her candidacy as an independent at the April Ward 7 Democrats meeting. Some Democrats made it clear that Alexander should resign from the council if she ran in the November general election.
Woody said that Alexander would have been a credible candidate in the general election because of her years on the council, but would have lost nonetheless.
"Yvette doesn't have a citywide base," she said.
James Short, the chairman for Alexander's 2012 campaign who lives in Southeast, said he understood why the council member hoped to represent District residents as an at-large member on the council.
"She wants to better serve the people in Ward 7 and she thought she could do that as an at-large member" said Short, 65. "I would say that the best thing for her to do is to stay where she's at and keep on doing a good job."
Terrell Wants More Political Activity in Ward 1
China Boak Terrell, the new chairman of the Ward 1 Democrats, wants her organization to be more proactive politically in the ward and in the city.
"I strongly believe that voter participation is extremely important," said Terrell, 36. "We had an extremely low voter turnout during the April 1 primary and we need to raise the bar. We also need to connect with voters to show how the Democratic Party can impact their lives and give them something to engage in."
Terrell won the coveted post on May 17 at the Ward 1 Democratic Convention that took place at the Reeves Municipal Center in Northwest. She defeated William Jordan, a candidate backed by Ward 1 D.C. Council Democratic Party nominee Brianne Nadeau.
Serving with Terrell during her two-year term will be Vice Chairman Tania Jackson, Recording Secretary Matt Abbruzzese, Corresponding Secretary Rosa Rivas and Treasurer Katerina Herodotou.
Terrell holds a bachelor's degree from Johns Hopkins University in Baltimore and a law degree from the University of Minnesota Law School in Minneapolis. She serves as an advisory neighborhood commissioner for 1D05 and has worked for D.C. Council members Tommy Wells (D-Ward 6) and Jim Graham (D-Ward 1) as an attorney with the Committee on Human Services.
The chairmanship of the Ward 1 Democrats entitles Terrell to a seat on the D.C. Democratic State Committee. She said that she looks forward to participating.
"I am a proud Democrat and I want to offer wonderful ideas to [the committee]."