EDUCATION BRIEFS: Third Annual New Heights Summit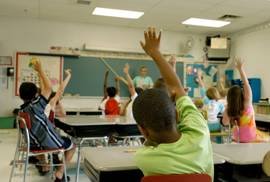 The District Department of Human Services and the Student Support Center, in conjunction with the school system, invite the public to attend a summit on Wednesday, June 25 at the Columbia Heights Education Campus in Northwest.
The half-day event will highlight the "New Heights" program – which offers support to expectant mothers or students who are already parents – to ensure that they graduate.
April Tucker, the mother of R&B singer Trey Songz, will be the keynote speaker.
Registration for the event begins at 8:30 a.m. and a continental breakfast and lunch will be served.
The New Heights program, which is based at 15 schools — including two charter facilities — also supports soon-to-be-moms and student parents in foster care, by helping to improve their attendance and graduation rates, providing information for the prevention of subsequent pregnancies, and preparing them for college and careers.
International Baccalaureate Programme Exhibition
Staff, students and families are invited to attend the International Baccalaureate Primary Years Programme Exhibition events where presentations by 5thgraders will showcase global issues that are impacting their communities.
The exhibits will be held as follows:
H.D. Cooke Elementary School, Tuesday, June 10 from 10 a.m. to 4 p.m.
Shepherd Elementary School, Thursday, June 5 from 6 p.m. to 7:30 p.m.
Thomson Elementary School, Thursday, June 12 from 6 p.m. to 7:30 p.m.
New Teacher Orientation 2014
A two-day orientation featuring Chancellor Kaya Henderson as keynote speaker, will be held for new teachers on Aug. 13-14 at the Columbia Heights Education Campus in Northwest.
Registration begins each day at 7:45 a.m., with mandatory sessions to take place through 12:30 p.m. Optional sessions that will held immediately afterward, run until 3 p.m. on Aug. 13 and until 3:15 p.m. on Aug. 14.
Points to be covered in the sessions include an overview of the IMPACT teacher evaluation system, a presentation of LIFT, the program that supports teachers' climb up the career ladder, a summary of professional development opportunities, and exhibits of model classrooms located on the premises.
High School Graduation Schedule
These are the schools scheduled to hold graduations June 11 through June 13. Other commencement ceremonies will be announced soon:
Dunbar Senior High School
10 a.m., June 11, Cramton Auditorium, Howard University in Northwest
Anacostia Senior Hugh School
5 p.m., June 11, Cramton Auditorium, Howard University in Northwest
School Without Walls
6 p.m., June 11, Lisner Auditorium, George Washington University in Northwest
Sharpe Health School
10 a.m., June 12, Sharpe Health School in Northwest
Banneker Senior High School
4:30 p.m., June 12, Cramton Auditorium, Howard University in Northwest
Cardozo Senior High School
6 p.m., June 12, Cardozo School Auditorium in Northwest
Woodson Senior High School
9:30 a.m., June 13, Cramton Auditorium, Howard University in Northwest
Washington Metropolitan High School
2 p.m., June 13, Cramton Auditorium, Howard University in Northwest
Duke Ellington School of the Arts
6 p.m., June 13, Cramton Auditorium, Howard University in Northwest
Columbia Heights Education Campus
6:30 p.m., June 13, Columbia Heights Education Campus in Northwest