Kenilworth-Parkside Residents See Brighter Future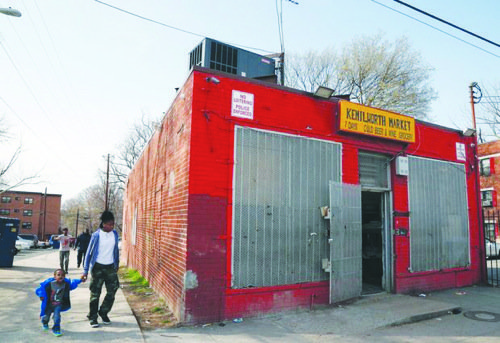 A who's who of business, education, government and civic organizations has visited the school, including presidential senior advisor Valerie Jarrett, Alma Powell, chair of the America's Promise Alliance, Mayor Vincent C. Gray, Ward 8 council member Marion S. Barry, former Health and Human Services Secretary Kathleen Sebelius and Susie Buffett, daughter of businessman Warren Buffett and chairman of the Buffett Early Childhood Fund.
"The first five years lays the foundation for a successful future," Susie Buffett told an audience at an event marking the school's first anniversary. "Education serves as an immensely powerful showroom for best practices and shows legislators a level playing field."
Educare fits nicely with DCPNI's vision that children in the neighborhood will attend and graduate from excellent schools, obtain the education necessary for productive careers, and have the additional support needed to thrive and some day provide those same opportunities to their own children, officials said.
"I know that outsiders talk a lot about the violence, but there's more crime in Georgetown than there is here but the perception from the outside is really bad," said Darlene Smith, 57, a property manager at Kenilworth-Parkside Resident Management Corporation on Anacostia Avenue in Northeast.
Charlotte Mann, a single mother of three, said she's prayed often for an improvement in education to help local youth avoid pitfalls.
"I know one of the emphasis for the Promise Zones is transforming schools, making them better and that's the one thing that cannot be compromised," said Mann, 49. "Our children deserve better and hopefully the government and everyone else will see that."
DCPNI officials said residents should trust that change will indeed occur in Kenilworth-Parkside, a community located in Northeast and whose borders are Eastern Avenue, Benning Road, Interstate 295 and the Anacostia River.
They said DCPNI personnel are onsite at Neval Thomas and Cesar Chavez schools, and grant money has helped provide computer tablets, after-hour programs at Cesar Chavez, a math coach and more.
"Local leaders are on the forefront of addressing some of our most complex social problems with limited resources and capacity," said Tracey Ross, senior policy analyst at the Center for American Progress and one of the authors of a new report released May 29 about the Promise Zone initiative.
"The initiative presents an opportunity to transform these communities while making the federal government a more effective partner," Ross said.
Until that happens, there are still daily challenges to overcome.
"We still don't have a supermarket or a grocery store," said Amanda Dolphin.
"We still don't have a pharmacy that's close enough to walk to. I wish [government officials] would consider that a priority, especially because you have senior citizens and small children here who need those services," said Dolphin, 55.
Following the assassination of Martin Luther King, Jr. in April 1968, angry groups rioted and burned neighborhoods in cities across the country, including sections of Washington such as U Street and the Kenilworth-Parkside community.
Since that time, some residents said they've relied on a neighborhood convenience store for groceries, but because of the attention the Promise Zone initiative has received, many remain hopeful.