National Museum of African Art Celebrates Milestone
Smithsonian Institution Turns 50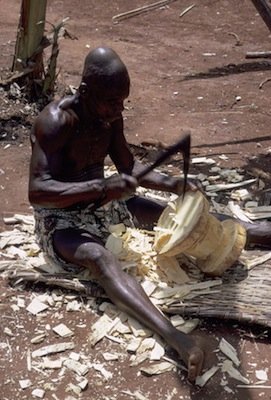 Elisofon, a former Life magazine photographer, bequeathed to the museum his extensive collection of African art and photography which include more than 700 works of art, 80,000 color slides, negatives and photographs, and 120,000 feet of motion picture film and sound.
"I want all ages to experience this special 50th anniversary celebration at the National Museum of African Art," Cole said in quoting Angelou: 'You can sing the songs, dance the dances, see the sculptures and hear the melodies. Not only do you belong to the museum, it belongs to you.'"
"Visions from the Forests: The Art of Liberia and Sierra Leone," also count among the exhibits featured during the anniversary celebration. The exhibit includes 70 works from the collection of the late William Siegmann, a former curator of African art at the Brooklyn Museum who lived and worked in Liberia from 1965 to 1987.
Siegmann's collection, particularly rich in masks, provides an overview of the region's traditional art forms, including numerous objects used in men and women's initiation associations, jewelry and prestige objects of cast brass and horn, small stone figures dating from the 15th to the 18th centuries, and woven and dyed textiles.
"It's a fantastic display that makes you feel like you've actually been to Liberia and Sierra Leone," said Gloria Mason, a Northwest resident and museum patron.
"At first glance, you don't understand the magnitude of the work, but believe me, you'll get it once you see it and read the material," said Mason, 61.
A catalogue that includes an essay by Christine Mullen Kreamer, the museum's deputy director and chief curator, on connoisseurship complements the exhibit.
"It was my way to honor my friendship with [Siegmann] and to recognize his important role as a scholar and connoisseur," Kreamer said.
Among the highlights are 10 Sande society helmet masks, including one with a complete costume, that allows visitors to examine the range of forms, styles and decorative motifs that a collector and connoisseur tends to appreciate when building a private collection, she said.
Artwork of wood, brass and natural fiber that have been identified with specific artists or workshops, which counter the anonymity that's often associated with Africa's traditional arts are also included in the exhibit.
"The exhibition reveals the deeply personal and scholarly connections forged by Siegmann during his many years of field research in Liberia and Sierra Leone," Kreamer said.
For more information about the museum and its 50th anniversary plans, visit www.africa.si.edu.