Norton Nominee Receives Senate Confirmation for Federal Judgeship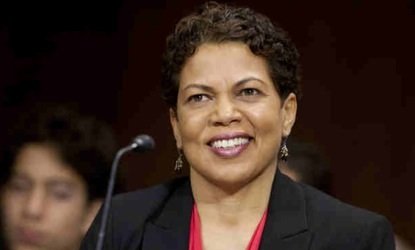 Tanya Chutkan, an Eleanor Holmes Norton-recommended nominee for judge on the U.S. District Court for the District of Columbia, received confirmation Wednesday from the U.S. Senate, becoming just the second black woman to serve on the court in 32 years.
Chutkan will join another Norton appointee, Ketanji Brown Jackson, on the district court bench.
The confirmation is the latest victory in Norton's effort to ensure that more people of color and women are considered for federal judgeships, a pledge she made upon being elected to the U.S. House of Representatives in 1990 as the District's delegate.
"Not only will Tanya Chutkan's broad criminal and civil legal experience and professional reputation make her a very able addition to our distinguished bench, but now she becomes only the third African-American to serve on the district court here," Norton said.
Chutkan is a partner at the law firm of Boies, Schiller & Flexner LLP, where the focus of her practice is complex civil litigation, particularly antitrust class actions, white-collar criminal defense and corporate investigations.
A graduate of the George Washington University in D.C., Chutkan earned her law degree from the University of Pennsylvania, where she was assistant editor of the school's law review.
President Obama has granted Norton senatorial courtesy to recommend candidates for federal district court judges and other important federal law enforcement officials in D.C. — a courtesy also extended by Bill Clinton during his presidency.