P.G. County Briefs: Maxwell Completes School Tours
6/4/2014, 3 p.m.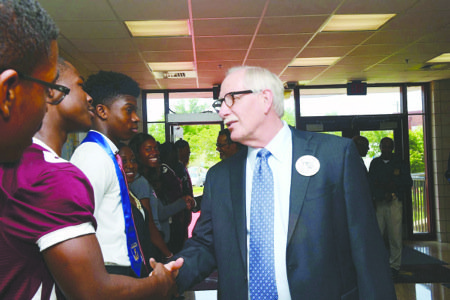 Kevin Maxwell, schools CEO, has made good on a promise to visit all 205 of the county's schools.
He said the tours allowed him to better interact with students, teachers and administrators while getting a close up and personal view of each school.
"It's been an awesome, awesome experience," Maxwell said in an interview. "As I visited schools across this district, I have seen some stellar teaching and some great learning. I've seen things that you won't see in a report or an email."
Maxwell, 64, was named schools chief in July 2013 by County Executive Rushern Baker and started his new job on Aug. 1 of that that year.
At that time, he promised to make the rounds to every building and completed the last tour on May 22 with a visit to Fairmont Heights High School in Capitol Heights.
Maxwell will serve as CEO until August 2017 based on his contract.
Roosevelt High Seniors Awarded National Scholarship
Four students from Eleanor Roosevelt High School in Greenbelt, Maryland, have been announced as winners in the 2014 National Achievement Scholarship Program.
Oluwakonyinsola Opeyemi Adesoye, Miles A. Harriston, Ahmed M. Kamil and Chiamaka K. Ogwuegbu counted among the 800 students nationwide who earned a $2,500 scholarship. They are among more than 160,000 African-American high school seniors from across the country who competed to share more than $2 million in scholarship money for undergraduate studies.
"Congratulations to these outstanding students who have earned this prestigious honor," said Kevin Maxwell, schools CEO. "I would also like to thank the National Achievement Scholarship program for helping our students finance their college education."
Eastman Receives Outstanding Teacher Award
Sheri Eastman, a mathematics teacher at the Academy of Health Sciences at Prince George's Community College in Kettering, Maryland, has been selected to be the recipient of the 2014 Christa McAuliffe Outstanding Teacher Award. Eastman's recognition comes as a result of a recommendation made by a peer committee of county educators.
"Ms. Eastman's creativity and exceptional instruction in the classroom makes her the ideal candidate for this award," said Kevin Maxwell, schools CEO. "To be selected by a committee of fellow educators makes this honor all the more meaningful."
Eastman who has more than 20 years experience in the teaching profession, received her accolades on May 29 during the annual Employee Recognition Dinner held at Martin's Crosswinds in Greenbelt.
Her name will be inscribed on a plaque displayed in the Board of Education Meeting Room at the Sasscer Administration Building in Upper Marlboro, Maryland.
"It's remarkable how students tackle their assignments with excitement and enthusiasm in Ms. Eastman's class," said Academy principal Dr. Kathy Richard Andrews. "She has shown a level of dedication above and beyond the scope of her job, and always exhibits motivation, dedication, trustworthiness, and talent."