THE RELIGION CORNER: Twelve Things That Make Men Rich (Part 11)
6/4/2014, 3 p.m.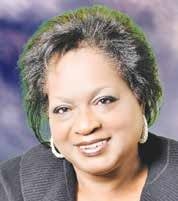 My life changed 30 years ago because of a new book I read which was similar to the Holy Bible; only it had action steps! I didn't quite understand the principles in the Bible, but as outlined in "Think and Grow Rich" the book researched for 20 years by Napoleon Hill, that helped to clarify many of the teachings for me. I learned how to increase my faith, and you can do it as well.

Hill teaches how our thoughts control our actions, and thus, can make or break us. In this, the 11th column, which focuses on "Wisdom with which to understand people" I'd like to begin by reminding us before we can fully understand others, we must first know ourselves. Here are some action steps taught by Les Brown.
Use your voice as a hammer to stamp out toxic, disempowering, negative thoughts that come into your mind. You can't control the thoughts that come, but you can control the ones you choose to dwell on.
Talk back to yourself and challenge the negative thinking that's robbing you of energy and focus. Do this daily for the next 21 days. You will experience a new love and appreciation for your higher self which will then begin to express itself.
Your mind and ego will tell you this is foolish, childish, or that you don't need to do this. Don't be duped. Negative thoughts don't want to die and will fight to remain alive. Scripture reminds us how "Satan came to kill, steal and destroy, and he is the prince of the air." 
Use your voice as an instrument to inspire you and to change the trauma into positive feelings. Look at yourself in a mirror and say "I love myself unconditionally." Scripture reminds us in the Great Commandment how we must "Love the Lord first and love our neighbor as ourselves."
Change the way you see yourself by taking these steps. Speak life to yourself with power, feeling and conviction. Choose positive words that will transport your mind to a new reality. Say "God created me with a plan for 'Greatness' and it's within me!"
Hill's work boils down to setting goals. He believed a group of people on the same wavelength and positively focused is substantially greater than a group of disorganized individuals.
All the successful leaders Hill interviewed attributed their success to being able to see opportunities, and most importantly, in finding people to help them achieve success. It's not enough to work hard, one must also find like-minded people, and inspire them to work hard as a team on achieving set goals.
Here are some of Hill's list of habits practiced by people who are so likable that others go the extra mile to help them: He said "They develop a positive mental attitude and let it be seen and felt by others."
It's often easier to give into cynicism, but those who choose to be positive set themselves up for success and have better reputations.
They smile when speaking with others. Hill says that President Franklin D. Roosevelt's greatest asset was his "million-dollar smile" which allowed people to lower their guards during conversation.
Hill said "They always speak in a disciplined and friendly tone." The best communicators speak deliberately and confidently, which gives their voice a pleasing sound.
They pay close attention when someone speaks to them, using a conversation as an opportunity to lecture someone "may feed the ego, but it never attracts people or makes friends," Hill says.
Have you ever felt the need to lecture someone because you know your experience can help them? Be very careful with that, it's not what you say, but how you say it!
Lyndia Grant is a radio talk show host on 1340 AM (WYCB), Fridays at 6 p.m.; visit her website at www.lyndiagrant.com, call her at 202-518-3192 or send emails to lyndiagrant@lyndiagrant.com.