Rivera Stops Barnett in Ninth Round
Gary Williams | 6/4/2014, 3 p.m.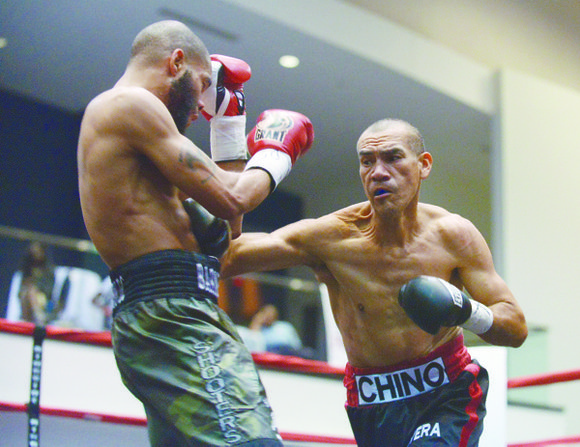 D.C. heavyweight Scott "Duke" Buchanan and Dennis Benson of Norfolk, Virginia battled to a four-round majority draw with each man scoring a knockdown during the bout.  Judge Wayne Smith scored the bout for Buchanan, 39-36. However, judges Tammye Jenkins and Paul Wallace saw a 37-37 score. Buchanan, who fought for the first time since November 2007, is now 4-0-1, three KO's while Benson is 1-6-1. 
Renan "The Reaper" Ruiz of Brooklyn, New York scored a brutal second-round TKO of Alan Beeman of Providence, Rhode Island. Ruiz is now 4-1, three KO's while Beeman remains winless at 0-8 with seven losses by knockout.
In a hastily-arranged opening contest,  D.C. light heavyweight Issa Coulibaly and Greg "Hot-Shot" Hackett of Philadelphia, Pennsylvania waged a competitive contest that ended in a four-round majority draw. Both men accepted the bout hours before they entered the ring. Hackett got off to a very good start as he landed good body shots and rocked Coulibaly with a right hook in the first round. Coulibaly came back and made the bout extremely competitive the rest of the way. Judge Paul Wallace saw the contest for Hackett, 39-37. However, Steve Rados and Lloyd Scaife saw the draw at 38-38. Coulibaly now has a record of 1-5-1 while Hackett is now 2-15-1.