United Medical Center Forges a New Path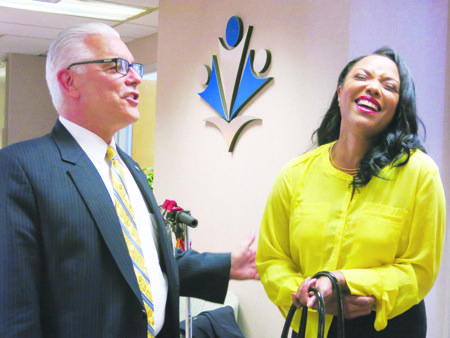 Medical personnel at the United Medical Center (UMC) fight an uphill battle every day as they help residents in Wards 7 and 8 lower and eliminate the high incidence of high blood pressure, diabetes, obesity and other illnesses that are wreaking havoc in people's lives.
In these and other health indicators, residents living east of the Anacostia River find themselves included in statistics that are among the highest in the District and the country. Some of the reasons people aren't healthy may be the result of lifestyles choices, other illnesses are tied to stress, the environment and the cumulative effects of racism and discrimination, hospital officials said.
That makes the work UMC undertakes that much more critical and informs the nature of its work.
"We have the highest rates of HIV, cancer, cardiac disease, and neonatal issues in D.C. even with all the renowned hospitals in the city," said Chief Medical Officer Dr. Cyril Allen. "UMC is like a beacon in a desert. There have been so many positive changes. We have more top-rated physicians than you had 20 years ago. The Radiology Department has got to be one of the best in the country. And we have nationally renowned doctors such as Dr. Raymond Tu, the chairman of Radiology, who started in the mailroom and is now a superb clinician known as a devoted physician."
"Children's Hospital is located in this facility. We see 90,000 patients a year. The amount and quality of work is amazing. We're extremely busy and we're busy improving."
Over the past year, UMC added 19 new physicians and continues to recruit specialists and primary care physicians focusing on cardiology, oncology, general surgery, and orthopedics, Allen said. The hospital also continues to enhance the technologies that are used to help diagnose and treat illnesses. UMC is the first hospital in the mid-Atlantic region to offer MicroDose, a diagnostic machine that provides mammograms and has the ability to detect the smallest cancers in the breast.
Meanwhile, the not-for-profit hospital recently forged a collaborative relationship with Johns Hopkins, Sibley and Howard University hospitals to take care of cancer patients. The collaborative effort is slated to begin in the next week or so. And Hollywood came to Southeast when actress Lynn Whitfield filmed a public service announcement championing the hospital's Radiology Department.
But one new development could be the fulcrum on which significant future success rests. UMC officials cut the ribbon at their new Capital City Sleep Center on May 1 at the hospital's Southern Avenue location. The Center's a private physician enterprise.
The Center's Director and Sleep Medicine Specialist, Dr. Eskender "Alex" Beyene, said most people are unaware that chronic sleep disorders, along with cancer, obesity and other illnesses, are one of the health disparities that plague African Americans. Problems associated with sleep are more likely to strike African Americans than other ethnic groups, he added.
Sleep disorders include insomnia, sleep apnea, narcolepsy, sleep deprivation, and restless leg syndrome. Most sleep problems can be directly attributed to other medical problems that can be life-threatening.