Ellerbe Stepping Down as D.C. Fire Chief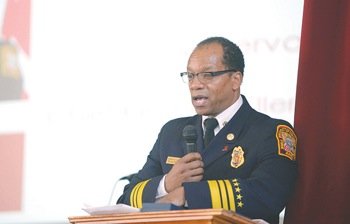 D.C. Fire and Emergency Management Services Chief Kenneth Ellerbe announced Wednesday that he will resign in July, putting an end to months of speculation about his job security and repeated calls for him to step aside.
Ellerbe, who was named as chief in December 2010 by Mayor Vincent Gray, was shrouded in controversy from the beginning of his tenure, as the department's union and rank-and-file firefighters chafed at his "dictatorial" management style and his desire to change the department's culture.
The scrutiny of his managerial skills intensified as the years passed, culminating in calls for his dismissal after the February death of Cecil Mills, a District government employee who died across the street from a fire station while EMS employees ignored pleas from family members.
Ellerbe said he will vacate the post July 2. Assistant Chief Eugene Jones will serve in the interim.
Council member Tommy Wells (D-Ward 6), chairman of the Committee on the Judiciary and Public Safety and outspoken critic of Ellerbe, said it was time for the embattled chief to move on.
"Fire and Emergency Management Services has enormous and urgent challenges to overcome," Wells said. "We can resolve these issues with strong leadership, sound management and a new culture of excellence. That opportunity now stands before us."
While Ellerbe had Gray's support, Wells and fellow Council member Mary Cheh (D-Ward 3) have openly pushed for Ellerbe to resign. The front-runners in D.C. mayoral race, Council members Muriel Bowser (D-Ward 4) and David Catania (I-At-Large), both said they would remove Ellerbe upon taking office.
Wells has been critical of Ellerbe's lack of knowledge about the inventory, particularly how many fire trucks are functioning, and his relationship with the union.
"I will do everything I can to ensure that the urgent issues that have gone unaddressed are dealt with immediately, including concerns over staffing, hiring and the condition and maintenance of the fleet," the council member said. "We cannot let a transition in leadership stall progress in making sure that our first responders are fully equipped and wholly staffed."
Council Chairman Phil Mendelson (D), during an appearance Thursday on WJLA's "NewsTalk with Bruce DePuyt," said that he wants to engage with the mayor and his colleagues on Ellerbe's successor.
Mendelson said on NewsTalk that he wants a permanent fire chief to be selected by Gray and approved by the council in the near future and not let a placeholder linger until the new mayor takes office in January 2015.
Wells said that he will meet with Jones "in the coming days."
There is continuing chatter that Ellerbe is readying a 2016 bid for the Ward 7 seat on the D.C. Council. Incumbent Yvette Alexander (D) has confirmed that she will run for re-election.