D.C. Gospel Choir Honored at Awards Ceremony
WI Web Staff | 6/6/2014, 4:22 p.m.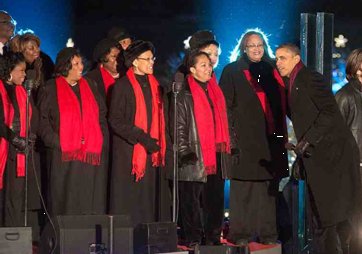 The Washington Performing Arts Men and Women of the Gospel Choir was honored Wednesday by the Choralis Foundation at an awards ceremony in Virginia.
The 120-member choir was given the 2014 Greater Washington D.C. Area Choral Excellence Award in the category of the "Best Gospel Choir" at the ceremony, which was held at the Clarendon Ballroom in Arlington.
The choir formed in 1991 to showcase a community of adult voices in concert, performs the tradition of the gospel music genre on main stages. It has performed at numerous major venues, most recently at DAR Constitution Hall in the Washington Performing Arts presentation "Of Thee We Sing: The Marian Anderson 75th Anniversary Celebration" and at the Kennedy Center Concert Hall with Choral Arts Society in "Living the Dream…Singing the Dream: A Choral Tribute to Dr. Martin Luther King Jr."
The choir, which is partly funded by the D.C. Commission on the Arts & Humanities, has performed with such gospel greats as the late Walter Hawkins, Richard Smallwood and Dottie Peoples, and well as renowned artists such as Sweet Honey in the Rock, Wynton Marsalis and the Ramsey Lewis Trio.