Pastor Jamal Bryant Defends Chris Brown Quote During Sermon
6/6/2014, 2:26 p.m.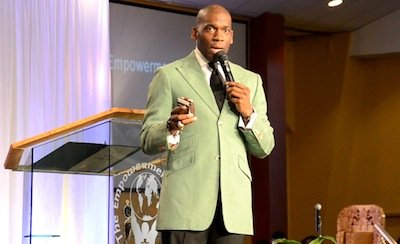 Jamal Bryant, the high-profile pastor of Empowerment Temple in Baltimore, defended himself amid backlash from a recent sermon regarding the state of the black church and black family in which he used the word "hoes."
In the sermon, titled "I Am My Enemy's Worst Nightmare," Bryant quoted a popular Chris Brown song when he lashed out at women by saying, "these hoes ain't loyal."
Bryant, 43, defiantly responded that critics need to hear the entire sermon before passing judgment.
"Don't critique a quote when you never heard message," he wrote in a Twitter post, linking to a video of the full sermon. "20 seconds of a 30-minute message is incomplete assessment."