Services Set for Raymond Boone, Richmond Free Press Publisher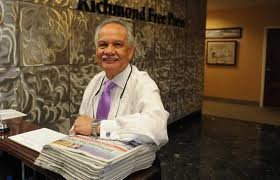 A funeral service for Raymond H. Boone Sr., founder and publisher of the Richmond Free Press, will be held June 10 at 12:30 p.m. in Richmond's New Deliverance Evangelistic Church.
Boone, 76, of the most respected journalists in Virginia and among the national black press, died Tuesday at his South Richmond home after a battle with pancreatic cancer.
A Kappa Alpha Psi memorial service will be held Monday at St. Philip's Episcopal Church in Richmond at 7 p.m., following a wake at the church. Burial service will be private.
He is survived his wife of 47 years, Jean Patterson Boone; a daughter, Regina; a son, Raymond Jr.; a half-brother, Thomas Boone of Suffolk, Virginia; four half-sisters — Geneva B. Boone of Hopewell, Geraldine Clark of Richmond and Ira Boone and Lolethia Boone, both of Suffolk; and one grandson.