New Restaurants, Retailers to Join National Harbor
6/9/2014, 9:36 a.m.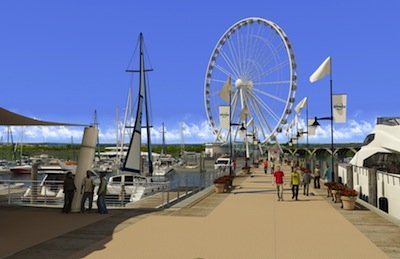 National Harbor announced Monday that eight new retailers, restaurants and services will open later this year at the waterfront location.
"These businesses selected National Harbor because they wanted to be a part of our thriving waterfront destination and we are excited to welcome them into our community," said Kent Digby, senior vice president of National Harbor. "They are a tremendous complement to our existing retail and restaurant offerings and will provide additional services to our growing resident and employee populations."
The new businesses include:
• Walrus Oyster & Ale House – First of its kind, this locally owned and managed restaurant from Star Restaurant Group will feature Eastern Shore seafood with a raw bar set in an authentic environment. This brand-new concept will offer go-to items like lobster rolls and crab salad sandwiches prepared by its world-class chef, all set right on the waterfront. The esteemed Bob Kinkead will serve as consulting chef. Planned opening is July 2014 at 152 Waterfront Street.
• Boating in D.C. – One of the best in the area, this boating company is known for its unusual water-sports classes and lessons, including SUP Fitness and SUP Yoga. Boating in D.C.'s popular fitness classes and brand new equipment are now available on National Harbor's floating pier.
• Redstone American Grill – Redstone American Grill has raised the bar for its National Harbor restaurant, which is its seventh location and first in the region. The restaurant features year-round fire pits and casual dining set in a rugged, romantic setting. Now open at 155 National Plaza.
• Harbor Urgent Care – Born out of a desire to service the hundreds of thousands of tourists that frequent National Harbor and the D.C. area, this urgent care center will be the first of its kind from a surgeon based in Laurel, Maryland. Harbor Urgent Care will provide a variety of treatments, physicals and medical services, for walk-ins and patients with appointments. Planned opening is fall 2014 at 221 American Way.
• Crab Cake Café – Locally owned and operated, Crab Cake Café offers one-of-a-kind all lump crab meat, no filler (ever!) crab cakes, fresh seafood salads, or piping hot Chesapeake inspired soups. Opening July 2014 at 140 National Plaza.
• Del Sol – The world's leading brand of color-changing apparel and accessories, this retailer fills the gap in the cruise and tourist market for customers who want to take a piece of vacation home with them. This is the first Del Sol location in the region. Now open at 165 American Way.
• Cariloha – Caribbean style and Hawaiian aloha were the inspiration behind Cariloha – a combination of the two words. The island lifestyle retailer specializes in its trademark soft bamboo clothing, accessories, bedding and bath towels. Now open at 165 American Way.
• Tervis – The popular insulated drinkware retailer opened its second location in the region, providing its signature tumblers and accessories in a variety of customizable designs. Now open at 189 Waterfront Street.
The 350-acre resort community located on the Potomac River also welcomes two new attractions – the Capital Wheel, a 180-foot observation wheel, and a massive state-of-the-art Jumbotron, the latter to be used for the "Movies on the Potomac" series and to display prominent sporting events and Saturday morning cartoons.