Raymond Boone Remembered for Fairness, Integrity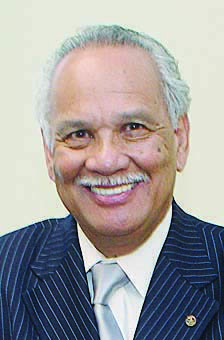 Raymond Boone often spoke about things — like the truth — that people in power didn't want to hear. And when it came to focusing on people who needed help, he never hesitated to be on the front lines.
Those were some of the sentiments shared by many of Boone's close friends and colleagues, who joined hundreds of people from near and far Tuesday at the New Deliverance Evangelistic Church in Richmond, Virginia, to pay their final respects to the founder and publisher of The Richmond Free Press.
"Ray left a rich legacy of honesty, fairness, integrity and stepping up to the plate to be counted," said his best friend Elwood Boone (no relation), a Richmond physician. "He was a courageous fighter who loved the competition of life."
Boone, 76, a Suffolk native who launched The Free Press in 1992 after realizing the need for a new voice to empower Richmond's black residents, succumbed to pancreatic cancer on June 3.
Prior to relocating to Richmond, Boone had once worked in the city as editor and later as a vice president of the Afro-American newspaper.
A journalism graduate of Boston University, Boone also served for nine years as a journalism professor at Howard University in D.C., where he also earned a master's degree in political science.
His affinity for standing up for justice and championing the rights of the poor and disenfranchised earned him the respect of readers across the country, and his top-notch brand of writing and reporting is credited with "bringing verve and sophistication" to the black press.
"He had a smile that would just make you feel good about yourself, and what you were about to do," said Todd Parnell, vice president of the Richmond Flying Squirrels minor league baseball team. "He always focused on people who needed help [and] one of his favorite quotes was 'a life is not important except for the impact it has on other lives.'"
Sen. Tim Kaine, former Richmond mayor, said he would not have made it to the U.S. Senate without Boone's support.
He said, however, there were times when Boone wasn't all that pleased with him, either.
"Sometimes he'd get this look on his face like he was wondering what did he ever see in me," Kaine joked. The audience couldn't couldn't contain their laughter.