D.C. Orchestra Unlikely Mix, Excites Audiences
Mix of Go-Go, Classical Music Earns Rave Reviews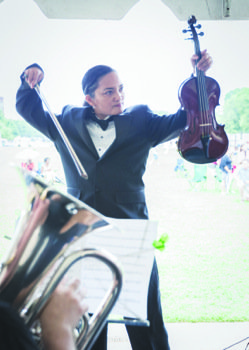 There aren't many ways to describe the unlikely coming together of Chuck Brown, "The Godfather of Go-Go," and Wolfgang Amadeus Mozart, the best-known child prodigy and classical rock star in history.
However, that didn't stop one of the District's most popular MC's from attempting to come up with a description.
"Hell has frozen over," said Head Roc, a Northwest hip-hop artist whose music has been featured on dozens of nationwide mix-tapes and compilations and who now enjoys the role of MC for the new Go-Go Symphony, an improbable pairing of the classical Capital City Symphony and seasoned go-go players who are throwbacks and reminders of the District's own distinctive brand of funk music.
"It's an impressive marriage and people have responded. It's something that I would have talked smack about at first, but when I got to hear it and be a part of it, it's amazing," said Head Roc, 43.
Founded by composer Liza Figueroa Kravinsky and conducted by John Devlin of the Capital City Symphony, the Go-Go Symphony features a 25-member orchestra that includes an electric guitarist, a tenor sax player, a horn section, and string section, a drummer, saxophonists and dancers.
Earlier this year, the eclectic combo wowed a standing-room-only crowd at the Atlas Performing Arts Center in Northeast and will attempt to do it again at the same venue, but this time with two shows in one night on Friday, June 27.
The first show begins at 8 p.m. and the second starts at 10 p.m.
"It's really nice to see the excitement building around this," said Devlin, 28. "It's a combination that you don't normally see together, a mix of genres where one you'd see at the Kennedy Center, and the other you're used to seeing at a club. But, go-go started here in D.C. and its part of the culture and when you add to it the orchestra, it's powerful."
It also brings together two distinctly different audiences.
Kravinsky, a Prince George's County resident who once toured with pop singer Stacy Lattisaw and composed music for superstar Prince's band, "Robin Power and the Uptown Dames," said audiences at classical music concerts are known for sitting in their seats, and offering polite applause.
Go-Go audiences are polar opposites and, during the Go-Go Symphony's performance at Atlas in February which featured a mixture of the two fan bases, the crowd rushed the stage, many danced in the aisles and the atmosphere proved so electric that the band and concert organizers wanted to do it all over again.
"The response has been great," said Kravinsky, whose work has aired on the Discovery Channel and Public Broadcasting Service stations.
"We received a standing ovation, three curtain calls and the venue was sold out. We also played at the 9:30 Club to great reviews and it seems that we're pleasing both the classical music and go-go audiences," she said.
The upcoming performances will also feature a world premiere symphony composed by Peter Van Siclen, titled, "The Green Line Symphony."