D.C. Orchestra Unlikely Mix, Excites Audiences
Mix of Go-Go, Classical Music Earns Rave Reviews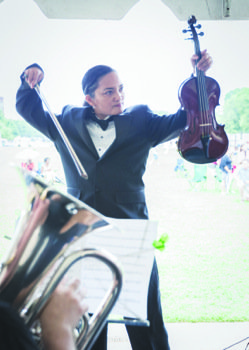 Kravinsky said each movement in, "The Green Line Symphony," reflects a different Metro stop.
The first movement has been named, "Columbia Heights," and includes pocket beats and smooth jazz, she said. Van Siclen then imitates through the music individuals he's encountered on the subway for the next movement, titled, "U Street."
In that movement, the composer uses overlapping melodies to represent the various clubs and diverse crowds who party at night at venues throughout the District.
The, "Anacostia," stop features a bounce beat, which counts as a nod to both the old and new school go-go crowd. Van Siclen, who earned a masters in Jazz Composition from the University of Massachusetts at Amherst, currently performs with a D.C. jazz-rock band.
"This project will be an exciting collaboration and the audience will love this new sound of D.C.'s own go-go beat, supported by a full symphony orchestra," Devlin said. "There are additional visual elements and dancers that make this a truly unforgettable experience."
Head Roc said the makeup of the orchestra and the unique sound they produce should be a success.
"I can see this taking place at [Prague Symphony Hall] and over at the Sydney Opera House. The visual is also amazing and then you have Liza and her Filipino culture and John Devlin is a white guy and then you have me, a black guy," he said.
"The band itself is a great melting pot with people from different backgrounds and you have everybody moving and in harmony with the rhythm. It's something that you cannot explain."
Admission for the June 27 performances are $30. For tickets and information, visit www.gogosymphony.com.