D.C. Political Roundup: Grosso Practices Politics His Way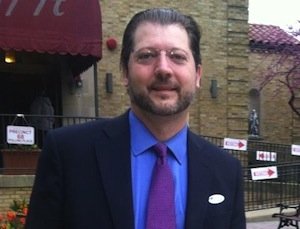 New members of the D.C. Council generally spend their first term learning the ropes and expressing their willingness to compromise in order to move legislation. And they usually don't endorse their colleagues' opponents during re-election races.
However, D.C. Council member David Grosso (I-At-Large), who joined the council in January 2013, aspires to be a good legislator but has a tendency to do things his way. Grosso raised more than a few eyebrows when he endorsed Ward 1 D.C. Council challenger Brianne Nadeau over D.C. Council member Jim Graham in the April 1 Democratic Party primary. Political observers are now wondering who Grosso will support in the November general election for mayor and the two at-large seats on the council.
"I have not decided who I will support for mayor," said Grosso, 42. "I have to see who gets on the ballot first."
Two of Grosso's colleagues, D.C. Council member Muriel Bowser (D-Ward 4) and David Catania (I-At-Large), are the top contenders for mayor. Bowser secured the Democratic Party nomination on April 1 while Catania needs to obtain the necessary signatures to get on the general election ballot.
Grosso understands that he walks a fine line with Graham, who chairs the influential Committee on Human Services and has the power to block any of his bills dealing with social services, welfare, disability services and others. That same dynamic comes into play with Bowser as chairman of the Committee on Economic Development and Catania leading the Committee on Education.
As far as the two at-large seats are concerned, D.C. Council member Anita Bonds (D-At-Large) is a favorite to get one seat because she's a Democrat but the other seat remains up for grabs.
"When it comes to the at-large seat, I don't know who I will support," the council member said. "There are so many candidates running as independents. I will admit that I am giving Robert White a good look," Grosso said.
White is a former aide to D.C. Del. Eleanor Holmes Norton (D) and a political newcomer.
Grosso said that he will probably endorse candidates in the general election, but said that he needs to study their platforms before making a decision.
"The November general election is a long way out," he said.

Bowser Gains National Attention
D.C. Council member Muriel Bowser's victory in the April 1 Democratic Party primary not only generated local buzz but got on the national radar as well.
Bowser tweeted on April 2 that she received a call from arguably the second most powerful person on earth, Vice President Joe Biden.
"Woohoo," Bowser, 41, tweeted. "Guess who just called to say congrats and good luck? Thank you, Mr. Vice President for having D.C. on your mind."
Bowser also received congratulatory messages from U.S. Sens. Harry Reid (D-Nev.) and Cory Booker (D-N.J.); U.S. Reps. Darrell Issa (R-Calif.), Steny Hoyer (D-Md.) and Donna Edwards (D-Md.); Virginia Gov. Terry McAuliffe (D) and Prince George's County Executive Rushern Baker (D).
Bowser said that she spoke to Houston Mayor Annise Parker shortly before the primary and Baltimore Mayor Stephanie Rawlings-Blake reached out to Bowser soon after her victory.
"Rawlings-Blake called me and congratulated me for winning and offered her assistance in any way that is needed," said Bowser, 41.
If Bowser wins the November general election, she and Rawlings-Blake will be the only black women running major cities in 2015.
Schwartz Runs for Mayor — Again
Former D.C. Council member Carol Schwartz shocked the District's political establishment on Monday, June 9 when she said that she will run for mayor of the District in the November general election as an independent. Schwartz has served 16 years on the D.C. Council and has run for the city's top political spot four times – 1986, 1994, 1998 and 2002.
Schwartz said she's running because she loves the city but she's concerned about the direction in which it's headed.
"We have a boomtown and a low unemployment rate but I am concerned that long-term residents are being pushed out," Schwartz, 70, said on NewsChannel 8's "NewsTalk with Bruce DePuyt" on Tuesday, June 10.