EDITORIAL: Welcome to the Future
6/11/2014, 3 p.m.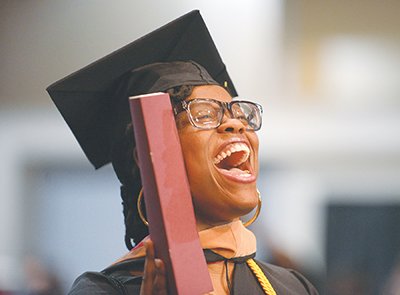 As is customary this time of year, students across the region are knee-deep in graduation activities. To the 2014 graduates, we offer our heartiest congratulations.
After years of work – hard and otherwise – relieved grads and equally thankful parents are celebrating this annual rite of passage. But as young people learn, once the air escapes from the last balloon and bunting is pulled down, their graduation represents the end of the beginning.
Going forward, young people will begin preparing for college or searching for a job. Both paths present more of a challenge than they have in the past, and successfully navigating both requires savvy, a mentor and luck.
One of the best parts of graduation is the exuberant and usually sensible words of wisdom convocation and commencement speakers impart to their listeners. Most will share details of their ascent to hallowed positions in business, entertainment and other professions; others will talk about the importance of hard work, keys to success and the intrinsic values that separate that success from failure.
Our country has undergone radical and in some cases irreversible change. It is a world where many of the old rules no longer apply. Americans who followed the formula that once lifted their forebears to a better life find the odds stacked against them. It is a world of stagnant wages; a middle class decimated by the flight of middle class jobs overseas; a housing crash and an economic meltdown; record amounts of homelessness, unemployment and underemployment; hunger, a scarcity of opportunities and the explosion of new poor – consisting primarily of those who used to be in the middle class.
For the first time in America's history, the younger generation will likely live a lifestyle that won't exceed that of their parents. Meanwhile, former college students are carrying $1 trillion in debt, and about 15 million people sit idle, unable to find work in a job market straining to absorb new entrants. With all this, those leaving institutions of higher learning behind face daunting prospects and an equally challenging future.
In the midst of such troubling circumstances and trying times, however, there's reason to be hopeful. For what is America but the land of opportunity? And for the optimists among us, every challenge presents an opportunity to turn misfortune into unfettered success.
The change this country needs may rest with the Millennials who are poised to take control of a country and a world their parents seem intent of running into the ground. Last week, more than 2,500 young people, ages 18 to 35, descended on D.C. to network, dialogue, recognize the philanthropic efforts of their peers, and boldly announce their intention to control the narrative about their generation.
At a wide spectrum of events and activities, Millennials from all walks of life signaled their impatience with a national political system that is irrevocably broken and a deep distrust of politicians and once-respected institutions of government and the media. Unlike elected officials who abhor making difficult choices, these young people refuse to kick the proverbial can down the road. They're tired of gridlock and see the importance and necessity of engaging in dialogue across and between different generations to develop consensus and workable solutions to intractable problems such as Social Security and Medicare, protecting the environment, and fiscal and economic issues.
They're 80 million strong, energetic, focused and hungry for change. They're not waiting for permission to begin to effect change. They're building businesses, jumping into politics and using every tool they have to make their voices heard. They are the future and those who are sitting like a bump on a log had better lead, follow or get out of the way.