EDUCATION BRIEFS: Student Recognition
6/11/2014, 3 p.m.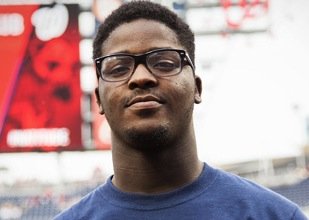 Jamal Taylor, a senior at Ballou STAY High School in Southeast, got a standing ovation during the recent "District of Columbia Public Schools (DCPS) Night" at Nationals Park in Southeast.
Jamal's commitment to academic excellence includes consistent honor roll status while volunteering to tutor classmates, reading to elementary school students and always being the first to support his school, made him a standout on Wednesday, June 4 among the vast crowd.
Students and staff showed up in full force to watch the Nationals beat the Philadelphia Phillies, and to celebrate "DCPS Spirit."
"I felt very blessed that [my teachers and fellow students] would think of me to represent [our] school [at the event]," Jamal said.
Summer Learning and Exploration Programs
A variety of program offerings and academic experiences have been planned throughout the summer for all students – including those with disabilities and who are learning the English language.
This summer in particular, there will be an array of programs consistent with the school system's 2014-15 budget priorities.
"When the academic school year ends on June 20, many of our school doors will remain open for other exciting learning opportunities for students," said Chancellor Kaya Henderson, 43.
"Learning doesn't stop when the school year ends," she said. "We are delighted to continue to serve our students throughout the summer and hope that families will take advantage of [all] we have to offer."
Some of the programs include: "DC Meets Washington."
'DC Meets Washington'
A new pilot program will be launched on Monday, June 30, called "DC Meets Washington" that introduces 7th- and 8th-grade students at the Browne Education Campus in Northeast and Cardozo Education Campus in Northwest, to the District of Columbia and the industries that help define the city.
"DC Meets Washington," which runs for five weeks through Friday, August 1, includes morning sessions that focus on college and career opportunities, and afternoon sessions that center on academic programs.
"For too many of our students, D.C. is a much different place than Washington," said Chancellor Kaya Henderson. "It's time to meld those worlds and ensure that our students know about the exciting, demanding, fast-paced world around them and that these industries can think of DCPS students as future leaders."
During the morning program, students will learn from experts and hear about college and career opportunities within the information technology, engineering, hospitality, and government sectors.
Students participating in the afternoon program will receive academic support from a community-based organization in literacy and science, technology, engineering and math.
K-8 Summer School
The schools system will host eight school sites for the five-week K-8 (involving students from kindergarten through the 5th-grade) summer school program that begins on Monday, June 30. Classes will assemble each day from 8 a.m. to 1 p.m.
During the sessions, teachers will use a research-based curriculum aligned with Common Core State Standards, and online blended learning programs to improve students' reading, writing, and math skills.
"Summer school should flow seamlessly from our traditional school year," said Chancellor Kaya Henderson. "We want our students who need a little extra help or those who love school so much that they want to be there for some extra time over the summer, to feel that summer school is a continuation of the rigorous learning environment they experience throughout the school year."
Some of the District's most highly-effective teachers, and those from the DC Teaching Fellows program will participate. Free breakfasts and lunches will be provided for students.
District Public High School Graduations June 14-19, 2014
Here's a list of remaining high school graduations for the District of Columbia Public Schools system:
McKinley Technology High School
10 a.m., June 14
Cramton Auditorium, Howard University in Northwest
Wilson Senior High School
10 a.m., June 14
Constitution Hall in Northwest
Ballou Senior High School
3 p.m., June 14
Cramton Auditorium, Howard University in Northwest
Coolidge Senior High School
7 p.m., June 16
Cramton Auditorium, Howard University in Northwest
Luke C. Moore Academy
12 p.m., June 17
Cramton Auditorium, Howard University in Northwest
Roosevelt Senior High School
6 p.m., June 17
Cramton Auditorium, Howard University in Northwest
Phelps Senior High School
5 p.m., June 19
Cramton Auditorium, Howard University in Northwest