Farmers Market, Bazaar Comes to Brentwood
Abandoned Lot Transformed for Community's Benefit
D. Kevin McNeir | 6/11/2014, 3 p.m.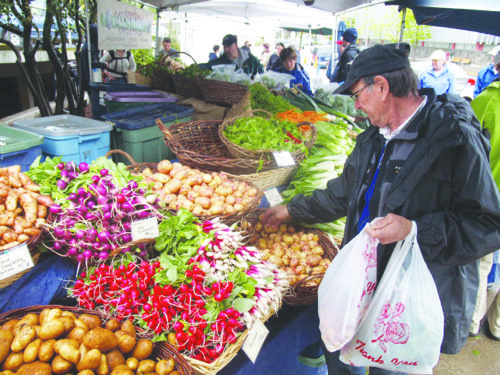 Everyone enjoys the summer – that time of the year when the fashion conscious don their whites, vacationers frequent the latest tourist attractions and shoppers rise early in the morning searching for bargains at outdoor shopping pavilions.
In fact, with fresh produce and homemade crafts now available each week at a new farmers market and bazaar in Brentwood, saving a few hard-earned dollars may have become a little easier.
"I've been a vegetable gardener my entire adult life and thought this would be a great part-time gig to help support my gardening habit," said Tracy Velazquez, who plans to sell tomatoes, peppers, green beans, dried herbs and even honey in the future.
"We had a farmers market in the past but it never got off the ground but this time I think it will be better resourced and have a wider variety of farmers and vendors," said Velazquez, a 40-something, five-year resident of Mount Rainier. "The community list serve has spread the word and I'm all behind it because it's a great way to meet my neighbors."
Eager for something with local flavor, one Brentwood resident said she visited the market both last Friday during its opening and again on Saturday and couldn't have been happier.
"The produce and fruit looked really fresh and one local guy performed [high quality] music," said Sara Prigan. "It was great to look at the arts and crafts of people made by my own neighbors. But the best thing was seeing an empty lot transformed into a bright active space. Route 1 has long been a pass-through highway – now it's becoming a destination."
The market, which opened for business on June 6, will be open every Saturday through Sept. 27 from 8 a.m. to 2 p.m. It also opens every first Friday of the month at 4 p.m. But the venue, located along busy Route 1 in the Prince George's County Gateway Arts District, may come as a surprise.
The site, formerly the B&J Auto Lot at 4100 Rhode Island Avenue, belongs to the Prince George's County Redevelopment Authority [PGCRA]. And while area residents can now enjoy the market, family activities for all ages, chef demonstrations and music, by next spring the long-abandoned property will serve another purpose.
"Through the typical solicitation process, the land was awarded to the Landex Companies and they'll develop it for mixed use, residential and commercial spaces," said Howard Ways, executive director of PGCRA. "They'll break ground in the spring but in the interim, we agreed that the farmers market provided an excellent way to reactivate the land."
Ways, 48, said his agency's mission includes making sure its properties don't fall into further disrepair or become eye sores – a request that comes directly from the community.
Spearheaded by the Gateway Community Development Corporation [CDC], the project began as part of an Art Lives Here initiative – a visibility campaign funded by ArtPlace America to Joe's Movement Emporium. The Gateway CDC supports artists and area businesses in an area that includes Brentwood, North Brentwood, Mount Rainier and Hyattsville.