Four Qualities Every New Homebuyer Will Need
Marcia Griffin, President, HomeFree USA | 6/11/2014, 2 p.m.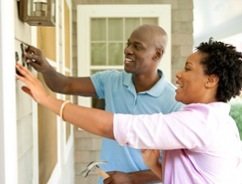 If you are thinking about buying your first home, there are definitely certain steps you should be taking to get your finances ready, such as building up your savings and paying off credit card debt. However, there are also certain qualities that are going to help you to achieve your goals.
Here's what some of the homeowners who have worked with HomeFree-USA had to say.
Quality One: Honesty.
It's crucial that you're honest not only with financial counselors and loan officers who are trying to help you, but with yourself. You must take a good hard look at your finances and your spending habits and determine whether you'll need to make some adjustments in order to achieve your goals. For example, do you eat out too much? Do you shop too much? If there are bad habits you need to correct, be honest with yourself and take the steps you need to correct them.
Quality Two: Patience.
You will need to create a financial plan and stick to it. Saving enough money for a down payment or improving your credit score may take time. As Sara, one of HomeFree-USA's successful homeowners, says, "It might not be this month; it might not be six months. It might take a year to get there."
You will also need patience during the homebuying process itself. Sometimes you don't get the first house you want to buy. Chante, signed contracts for three houses before a sale went through. The house she ended up in is the home she believes she was meant to have. She says: "Sometimes you have to be focused on what you want and be patient, and if you're doing your part it will work itself out."
Quality Three: Persistence.
Another quality that's crucial is the ability to stick with a plan. Chris and his wife Sara came to HomeFree-USA for guidance and they were able to follow the plan that our counselors helped them to set up. "Having a process and following it through builds confidence," Chris says. "That's all you can ask for."
Quality Four: Curiosity.
Buying a home is one of the biggest investments you'll ever make. It's important that you understand the process and if you're confused or unsure of what to do, you need to ask questions. Find someone who can hold your hand through the process. Homebuying organizations such as HomeFree-USA are here to be your advocate and make sure you don't get the runaround. We are here to empower you to ask the tough questions and demand the answers you need.
Nurture these qualities in yourself and the next homeowner success story we feature may be yours. Visit us at HomeFreeUSA.org or call us at (301) 891-8400.