LETTERS TO THE EDITOR: Congratulations Class of 2014!
6/11/2014, 3 p.m.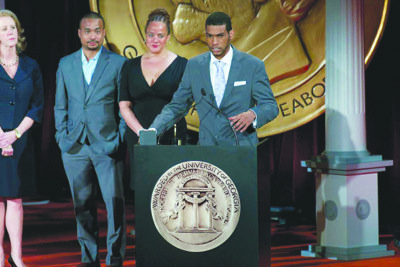 I am writing to you because when I read the article by Dorothy Rowley in the June 5 edition of The Washington Informer, "Ballou Student Accepts Prestigious Peabody Award," it made me feel something real special.
I can't explain the feeling that went through me but I know it was special. I have lived in Southeast Washington my whole life and it's been hard for me so I know for a fact the struggles our students in this part of D.C. face on a daily basis. But when I read that article and saw the photograph of Ballou student Rufus McDowney standing in front of all those people accepting that award, man, did I feel proud.
I looked up the "Peabody Award" and when they say it's prestigious, it really is! It's the top communications award given! I have always believed that there are thousands of young people here in Southeast Washington, just like Mr. McDowney, whose lives could have taken a different path if only there was something or someone who gave them that little push to try to achieve something different.
It's truly a wonderful story and I wish only the best for Mr. McDowney. Your article renews my faith that, yes, our young folks will somehow navigate through this tangled maze called "life."
Anthony Benson
Washington, D.C.
Maya Angelou, a Timeless Treasure
I really liked the front-page photo of the late author and poet, Maya Angelou, which appeared in the June 5-11 edition.
In my opinion, the photo is a timeless tribute and beautiful depiction of African-American womanhood at its best.
Of course, I was sorry to hear of Ms. Angelou's passing at age 86, and I imagine that she lived life to the fullest.

However, I'd read that in the waning months of her life, she had some heart problems and as a result, had been confined to her home.
But even so, her presence away from the public at that time continued among us, as evidenced by the great literary works she gave the world, and that gracious trademark smile of hers which I will always remember.

Ms. Angelou endured a hard upbringing, but was blessed afterward with a colorful and rewarding life that afforded her a seat on some of the world's most renowned stages, and goodwill travels to places most of us can only dream about.
I'm certain that all of these accomplishments and more, led to her ultimate portrayal as one of this country's greatest treasures.
In addition to her innate talent, Ms. Angelou's ladylike demeanor and wise counsel will forever depict her as a model of strength and perseverance.
Sharon Tucker
Washington, D.C.
A Woman for All Seasons
My heart is saddened with the loss of our beloved sister Maya Angelou. She was truly a gift of love to all of us. Her poems will forever bring happiness, pain, joy, sadness and courage to those who will read them for years to come.
I can still hear the words of her poem, "And Still I Rise," recited years ago by my daughter's second grade as part of a presentation to the PTA. Not only was Maya Angelou a world class artist, she was beautiful, stately, gracious and strong. She exemplifies the meaning of what a black woman is and should be, and the photograph of her that you ran on your front page of the June 5, 2014 edition proves my point.
The human spirit will always treasure great art because great art makes the human spirit expand. Maya Angelou gave to not only us as African Americans, but to the world great art, and even though that art was personal at times, it transcended cultural and ethnic lines to become real for all who read it. Maya Angelou will be missed, but I know her poems will live forever.
Lillian M. Jackson
Suitland, Maryland