Millennials Flex Their Muscle
Barrington M. Salmon and Sam P.K. Collins | 6/11/2014, 3 p.m.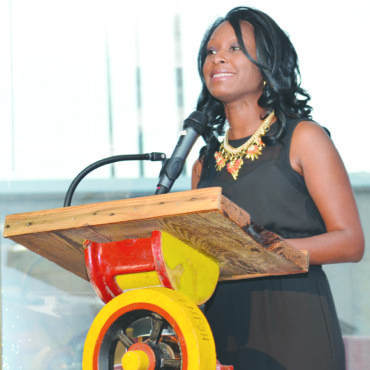 Olikara and other panelists said lack of activity and a startling lack of vision by those in Congress have resulted in missed opportunities to innovate in a number of industries. A common refrain throughout the panel discussions centered on the willingness of Millennials to move beyond differences to change.
"We believe in promoting solutions, effecting changes. Solutions and actions are important because we don't live in a vacuum," said Amy Tannenbaum, chair of the Women's Information Network. "We have to work to have discussions with the older generations."
All around the country, Millennials are creating businesses, jumping into politics and using every tool they have to make their voices heard, people said.
Throughout the week, Millennials mixed business with pleasure. After hours, they met at parties, local eateries and hotspots where young people usually congregate to nosh and network.

Steve Lucas, 26, serves as vice president of strategy and communications at Equity Eats, a local start-up that invests in small businesses with the aim of taking food and wine entrepreneurs to the next level and revitalizing neighborhoods. He attended Millennial Made, a showcase of food and wine on June 5 at the Wonder Bread Factory in Northwest with three of his colleagues and enjoyed a blow torched S'more with cherry and lavender jam from Rare Sweets, a small business that uses Union Market facilities in Northeast.
"The food has been amazing but I love the people. They're really friendly and driven. I've had interesting conversations the entire evening," said Lucas, who later tweeted about his experiences from his company's Twitter account. "We're entrepreneurial Millennials who care about D.C. It's great to connect with people in this city who are so invested in small independent businesses like we are."
"We want to help food and wine entrepreneurs to the next level. We want to take people who are using Union Market [to move] their business to the next level and eventually transform D.C. neighborhoods. Everything that we do is connected to this event. There's so much potential in these neighborhoods." 
Millennials are inheriting a society that's mired in economic stagnation. Decades of malaise in wages, a middle class decimated by the loss of jobs, and a punishing housing implosion and economic meltdown leave much of the younger generation looking at a vastly diminished future: college students have $1 trillion in outstanding student loan debt, 20 percent live with their parents and 40 percent are underemployed or unemployed.
But panelists and speakers reminded other Millennials at the town hall that this is a problem-solving generation 80 million strong, that's energetic, focused and hungry for change.
"There are a lot of young people involved in politics although those running aren't talking about things Millennials care about like the environment, women's health and college affordability," said Ashley Spillane, president of Rock the Vote, a non-partisan organization based in Northwest working to register more than 400,000 young people before the November elections. "When young people vote, they flip elections, because when they do, they want change."
Atima Omara, president of Young Democrats of America, agreed.
"We're a destructive generation. We tear down institutions," she said. "President Obama's election was transcendent but today, 52 percent of Millennials would vote to kick out Obama. We're looking for results that make our lives better."