P.G. County Briefs: Reading Challenge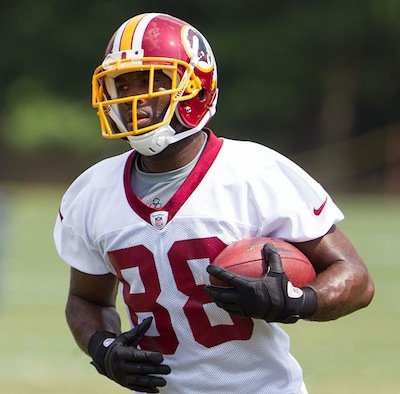 Washington Redskins wide receiver Pierre Garcon recently made a surprise visit to Overlook Elementary School in Suitland-Silver Hill, Maryland, where he congratulated students on placing third in the "Redskins Read Book Challenge."
The Challenge encouraged students in kindergarten through the 6th-grade to read at least 10 books during the school year.
"[More than] 50 percent of our school had 100 percent participation in the program," said Jerselle Howard, reading specialist at Overlook. "The students not only enjoyed reading, but they talked about what they read and they were so excited to share."

Garcon, who led the celebration with dancing and reading, said he was impressed with how many books the students read.
"It just shows you the type of learning going on here at Overlook," he said.
Fifty-seven schools from 19 counties across the region participated in the challenge.
Golfing Tournament
The 4th annual "Golfing for Education" tournament will be held from 7 a.m. to 5 p.m. on Thursday, June 19 at the Country Club at Woodmore in Mitchellville, Maryland.
The event, one of many programs established in support of quality educational experiences for all students, to help them learn, grow and develop into productive citizens, has been well-received by county residents.
Proceeds from the tournament will benefit the Excellence in Education Foundation for Prince George's County Public Schools.
Scholar of the Week
Nicole Macasa, a senior at Northwestern High School in Greenbelt, Maryland, ranks among students who have recently been recognized as a "Scholar of the Week."
Nicole, who has a 4.02 grade point average, excels in Advanced Placement courses that include government, world history, English, calculus, and biology.
Her extracurricular activities include participation in the International Studies Program and the Student Government Association.
As president of her class, Nicole is a member of the National Honor Society and the National Quill and Scroll Honor Society.
Nicole also volunteers at Children's National Medical Center in the District, where she has completed more than 70 hours of community service.
In addition, Nicole likes to listen to music, bake and spend time with her family and friends.
She will attend college this fall and study to become a nurse practitioner.
Graduates' Connection!
School officials are always proud of the accomplishments graduates have made in their respective communities and in society as a whole. That's why they're encouraging alumni to share where they work and what they've been doing since graduating.
Alumni can post their activities and events – that include class reunions, job offers, promotions – and other accomplishments to their school's alumni pages, Facebook or at Classmates.com.
District of Columbia High School Graduations – June 14-19
Here's a list of remaining high school graduations for the District of Columbia Public Schools system:

McKinley Technology High School
10 a.m., June 14
Cramton Auditorium, Howard University in Northwest
Wilson Senior High School
10 a.m., June 14
Constitution Hall in Northwest
Ballou Senior High School
3 p.m., June 14
Cramton Auditorium, Howard University in Northwest
Coolidge Senior High School
7 p.m., June 16
Cramton Auditorium, Howard University in Northwest
Luke C. Moore Academy
12 p.m., June 17
Cramton Auditorium, Howard University in Northwest
Roosevelt Senior High School
6 p.m., June 17
Cramton Auditorium, Howard University in Northwest
Phelps Senior High School
5 p.m., June 19
Cramton Auditorium, Howard University in Northwest