Recent and Recommended Do-It-Yourself Books
6/11/2014, 2 p.m.
Complete Do-It-Yourself Manual
Reader's Digest Association, Incorporated
This book contains more than 1,900 practical tips, easy fix-its, touch-ups, and make-rights for keeping your home problem free and preventing costly repairs. This unique book is written with one purpose in mind-saving the reader thousands of dollars in preventable damage for the most common trouble spots. Perfect for the handyman or woman around the house, the practical techniques do not require special skills or mechanical aptitude-if you can hold a hammer you can save a bundle.
Organized for easy use, the chapters include an introduction that creates a positive, can-do attitude and encouragement to plan ahead; walls and ceilings and floors and stairs maintenance and repair tips; maintaining your curb appeal high without hefty repair bills for siding, doors and windows, roofs, masonry, weatherproofing, and house extensions; advice on how to keep appliances, sinks, furnaces, doorbells, and lights running smoothly; and fire safety, minimizing Radon exposure, natural disasters, termites and other pest damage-preventive measures that will keep your family safe.
This book is all about giving you the knowledge and confidence you need to maintain and enjoy the biggest investment that most people will ever make.
Plumbing Do-It-Yourself for Dummies (Google eBook)
Donald R. Prestly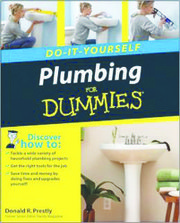 Want to save time, money, and frustration on plumbing repair and replacement? Do it yourself! Plumbing Do-It-Yourself For Dummies turns even the most daunting household plumbing project into a simple, step-by step process that delivers professional-quality results at a fraction of what you'd have to pay a plumber—and you won't have to wait weeks for an appointment. From fixing leaks and drips to caulking a tub or shower, to replacing a faucet, you'll discover how to tackle 40 of the most common plumbing jobs in your home. Easy-to-follow, detailed instructions and hundreds of photos and illustrations guide you through each task. And, you'll even discover what surprises to expect and how to prepare for them.
The Handymans Multipurpose DIY Book: The Homeowners Guide to DIY Home Repair and DIY Home Improvement
Leon M. Connor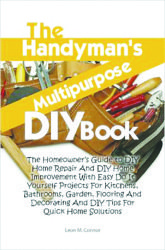 DIY or Do-It-Yourself is a term used mostly alongside home improvement projects. It is any activity which involves the creation, remodeling, repairing and completion of odd jobs or big house repairs without the need for expert or professional help.
DIY projects can help you create the home you truly love at a budget you can very well afford. DIY home projects which you can do on weekends, for example, are a popular way to have the home features you want to improve your lifestyle as well as to add value to your home. DIY landscaping, lawn care, decorating, cleaning and household repairs are small odd jobs you can do easily to beautify and maintain the home.
The purpose of this book is to give resourceful tips and how-to instructions for do-it-yourself home improvement and home repair to help you save money. Areas of instruction include: Installing tiles, Installing a drop ceiling, Making kitchen cabinets, Painting a bathroom, Building a home swimming pool, Decorating small box rooms, and Wooden floor upkeep.
With detailed instructions and the knack for doing household repairs and small jobs for the home, anyone can be a capable DIY handyman. With this book's help, you can learn all the basic skills and requirements you need for various DIY projects so you won't need to hire other people to do the work for you.