Repair Gurus Karen DeVenaro and Leah Bolden Make Home Improvements Simple, Easy
See Jane Drill Instructors Offer tTutorials for First-Time Homeowners
6/11/2014, 2 p.m.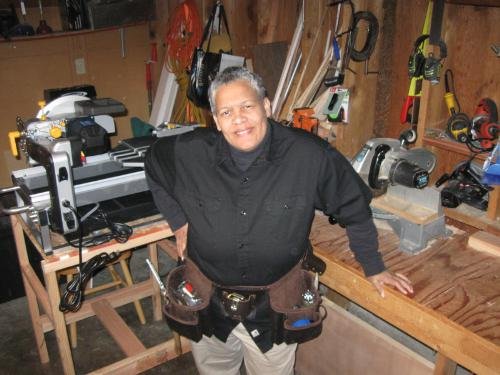 How Karen and Leah got started:
Leah has over 30 years' experience in the construction industry, including 20 years as a journeyman plasterer for a public agency. She has developed and taught numerous construction workshops and has been a building trades instructor, preparing women for jobs in the skilled trades. She is passionate about sharing her skills and knowledge in a wide array of trades and home repairs.

Karen is a leading expert on women in trade apprenticeship programs which operate in the public sector. She served as an electrical apprenticeship program manager for a major metropolitan public utility, and has been a champion of promoting the success of women in the skilled trades, particularly in the electrical field. One of her proudest accomplishments is the creation of a Basic Electricity and Applied Math program, which prepares people with the skills and knowledge they need to be successful in the skilled trades.
What gave you the idea to provide tutorials to other women?
As women who worked in non-traditional careers and who were supporting other women in those fields, we had always been aware that most training resources for home improvement are geared towards those who already know something about the trades. We wanted to create resources that anyone could use to make repairs and updates in their own homes that showed everything a person needed to know and left nothing to the imagination. In fact, our first video "testers" were our mothers and sisters! We figured, if they could watch our videos and feel confident in being able to do the jobs, then we had done our job.
Home repairs are still considered a man's domain. How do you convince women that they a) can do the job and b) make them comfortable with the tools they may consider intimidating?
Our mission is to take the mystery out of all things mechanical, so that people can fix, renew and restore their own stuff. We show women, and men, particularly those who haven't had the benefit of a mentor or a high school shop class, that most basic home repairs are not only entirely possible, but are simple to accomplish. We provide step-by-step instruction on every aspect of each job, and we don't assume that people know anything prior to watching our video or picking up one of our how-to guides. We also feel that because we are women doing the work and showing how to do the work, it encourages and empowers other women to believe that they can do the job. We like to believe that people who watch our videos will see that if we can do it, they can do it.
What would you say is the most common obstacle to women doing repair work?
The first common obstacle is a general misconception among women that there is something mysterious or dangerous about using tools and performing home improvement tasks. The reality is that what we are teaching people are skills that can be learned by anyone with proper instruction. And the second obstacle is simply a lack of training available for women to learn home improvement skills; this is a gap that we are working every day to fill.
There are several new lines of women's toolkits designed for better female handling. What do you recommend?
Quite honestly, we both use and recommend using good tools from an established brand, and then going by what feels comfortable to the individual. Honestly, you can't go wrong with well-made tools.
For more information about See Jane Drill or to order tutorials, visit their website at seejanedrill.com.