Marion Barry Tells His Own Story in New Book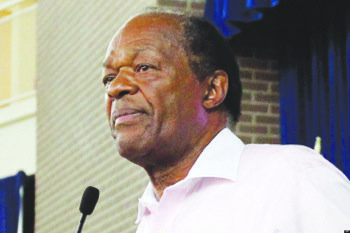 D.C. Council member and former mayor Marion S. Barry says he decided to tell his own story after growing tired of the way the media depicted his life.
In his new book, "Mayor for Life: The Incredible Story of Marion Barry Jr.," released Tuesday nationwide, the 78-year-old political power broker aims to reclaim the narrative of his legacy, writing "it was time for me to tell it myself and the way I want to tell it."
"Over the years, I figured there was so much written about me that I started thinking about writing a book to tell my own story and without pretense," Barry says in the 336-page memoir, which was written with novelist Omar Tyree. "Never in a million years could I have imagined the life that God had in store for me when I was picking cotton in Itta Bena, Mississippi."
Barry thanks numerous people for help making the book possible, including the late Effi Slaughter Barry, his ex-wife and mother of his son, Christopher; and Kim Dickens, who donated a kidney to him in 2008.
Barry is scheduled to be interviewed Thursday, June 19 by Oprah Winfrey for her "Master Class" series on the OWN cable network.
On Monday, Mahogany Books and The Washington Informer will host "A Conversation with Marion Barry" at the Old Congress Heights School in Southeast.