DC Jazz Festival Celebrates 10th Anniversary in June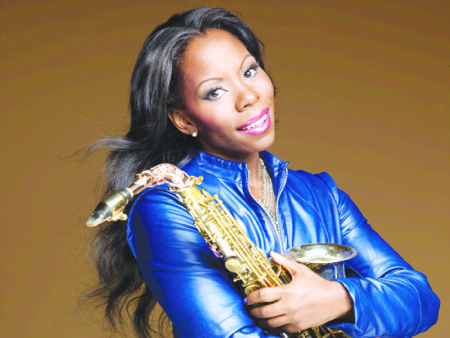 Pack a bag; grab a blanket and take some time off from work, that's the advice from Sunny Sumter, the executive director of the DC Jazz Festival which celebrates its 10th anniversary this year.
"I'm serious. It's a family affair and if it's your first time, you should grab a brochure, take out a calendar and plan some activities. I think it's a great time to take off from work, take a vacation because it's a lot of fun and it's also exhausting," said Sumter, who's responsible for activities surrounding the festival.
In the previous nine years, those who have attended the jazz fest have been treated to some of the most electric names in jazz and for the 60,000-plus who visit each year, organizers have consistently succeeded in adding unique features including the popular, "Jazz in the Hoods," program where more than 80 performances take place in 40 neighborhood venues in each quadrant of the District.
"We have so many people who come to D.C. from all over the world and the idea is that no mater where you live in the District, you can come outside your home and hear jazz and see jazz musicians," Sumter said.
This year's festival, which begins Tuesday, June 24 to Sunday, June 29, will have a diverse group of established and emerging artists, including Grammy nominee Gregory Porter, Trombone Shorty, Yasiin Bey whom many know as Mos Def, Cyrus Chestnut, the Dizzy Gillespie Afro-Cuban Experience, and the Brass-A-Holics.
"We're ecstatic to have reached this milestone and are delighted to have attracted jazz lovers from around the world to enjoy our nation's original art form," said Michael Sonnenreich, chairman of the festival's board of directors.
Among this year's attractions, "Jazz at the Hamilton Live," a production that will consist of 10 nights of performances and a broad representation of the genre's finest artists, Sumter said.
Roy Hargrove, Paquito D'Rivera and Snarky Puppy are among those scheduled for the main stage while Sumter said she's particularly excited about up and coming artists like Helen Sung and Tia Fuller.
"This is a tribute to the rising young women of jazz. Tia Fuller is a fabulous young saxophonist who's played for Beyonce and then you have Helen Sung, who's wonderful," Sumter said.
"Jazz at The Hamilton Live" will also host a, "Prelude Kickoff Concert," on Saturday, June 21 with a performance by Hargrove, a two-time Grammy Award winner, and his hard-bop quintet.
"The 'Hamilton Live' is thrilled to host [10] nights of vivacious jazz this month," said Tom Meyer, president of Clyde's Restaurant Group. "We are excited to join the festival in celebrating its 10 years of success with some of the best jazz artists on the music scene."
Additionally, in partnership with the Phillips Collection, "Jazz 'n Family Fun Days," returns this year and Sumter said it will be a celebration of the synergy between jazz and the visual arts with performances by more than a dozen regional artists and youth ensembles in the Phillips Collection's music room and auditorium in Northwest.