EDUCATION BRIEFS: Junior Solar Sprint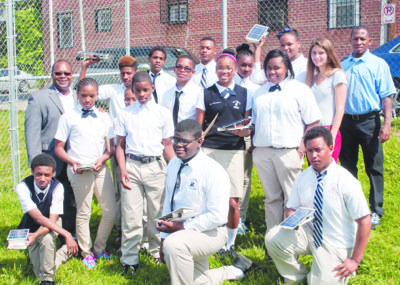 Hundreds of students, teachers and families gathered late last month at Friendship Public Charter School's Blow Pierce campus in Northeast to watch some of the brightest students in grades 4-8 who live in the District, Maryland and Virginia compete in the regional Junior Solar Sprint race.
The annual event tests students' ability to use scientific know-how, creative thinking, experimentation and teamwork to design, build and race high-performance solar electric vehicles.
The event also marked the launch of Friendship's "Summer of STEM" initiative, which offers more than 10 new enrichment clubs for students at all six of its campuses.
Mayoral Candidate to Keep Chancellor
It looks like Chancellor Kaya Henderson will be retaining her post if Ward 4 Council Member Muriel Bowser (D) wins the November mayoral election.
Bowser, 41, said during a January debate that she had made no commitment as to whether she would keep Henderson, 43, on as the schools chancellor. But she confirmed during a recent public gathering that she plans to retain the chancellor.
Celebrating Success
School officials are celebrating the Class of 2014 with a series of photos and videos highlighting some of the students who refused to quit when the going got tough.
Ashley Brown, who graduated on June 17 from Luke C. Moore Academy in Northeast, counts as one of the students who persevered despite myriad challenges.

Ashley dropped out in the 10th grade but returned to school in 2012. She wanted to attend college so that she and her son Isaiah could have a better quality of life.
"Isaiah is my inspiration. I know he's here for a purpose," Ashley said. "Before I had him I wasn't going [down] the right road. When I had him I thought, 'what am I going to do if I don't finish high school? How am I going to support my child? My son is all I have.' And if something is that important to you, you will [strive] for success."
Family members, friends and other supporters of this year's graduates can read their personal stories by using #DCPSgrads.
Free Summer Meals Program
Hunger doesn't take a summer break.
The U.S. Department of Agriculture's Summer Food Service Program (SFSP), known in the District as the DC Free Summer Meals Program (FSMP), reimburses schools and other organizations that provide free nutritious meals and snacks to children 18 and younger. These meals help children in low-income areas get the nutrition they need to learn, play, and grow throughout the summer months when school's not in session.
When schools are closed for summer vacation, the meals served as part of the National School Lunch Program and School Breakfast Program aren't available, and due to families' limited budgets and other circumstances, children will often miss wholesome meals.
The FSMP fills this gap and parents benefit from help in stretching their food dollars and knowing that their children are receiving healthy meals in a supportive environment.
The Office of the State Superintendent of Education can provide the names of agencies that sponsor the SFSP in the District, and the contact person for when and where meals are served.
Interested parties can also visit the Find a DC Free Summer Meals website for information.