Federal Patent Office Rules Against Redskins, Cancels Trademark
WI Web Staff | 6/18/2014, 10:25 a.m.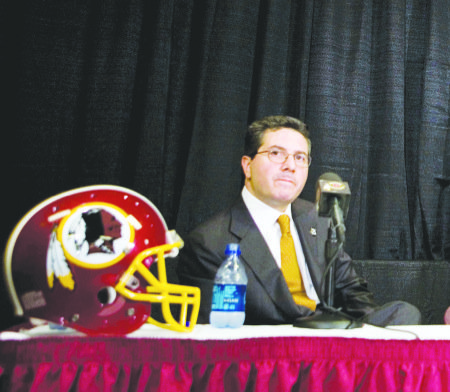 The U.S. Patent and Trademark Office on Wednesday canceled six federal Washington Redskins trademark registrations, deeming the team name "disparaging to Native Americans."
The Trademark Trial and Appeal Board handled the case, which was filed on behalf of five Native Americans.
"We decide, based on the evidence properly before us, that these registrations must be cancelled because they were disparaging to Native Americans at the respective times they were registered," the board decided.
The Redskins' trademark attorney, Bob Raskopf, said the team will appeal the decision as it did a similar ruling by the board in 1999 that was eventually overturned four years later.
"We've seen this story before. And just like last time, today's ruling will have no effect at all on the team's ownership of and right to use the Redskins name and logo," Raskopf said. "As the district court's ruling made clear in 2003, the evidence 'is insufficient to conclude that during the relevant time periods the trademark at issue disparaged Native Americans.' … We are confident that when a district court reviews today's split decision, it will reach a similar conclusion."
Proponents of a name change nevertheless hailed the ruling as historic and implored team owner Dan Snyder, who has defiantly refused to consider abandoning the name, not to fight the board's decision.
"Daniel Snyder tried to turn the name on its head, but there was no way to put a positive cover on a name with racist origins," said D.C. Delegate Eleanor Holmes Norton (D). "NFL Commissioner Roger Goodell's failure to exercise the needed leadership guaranteed that it would take the law to force a change. We in the District of Columbia are particularly relieved about the ruling, which upholds values of the people of the District of Columbia.
"Goodell still has an opportunity to exercise some leadership," Norton said. "He, the other NFL team owners and FedEx should urge Snyder not to appeal this ruling. It is time for the team and the NFL to put this issue to rest."