Garden Expands Healthy Food Options in Northeast Community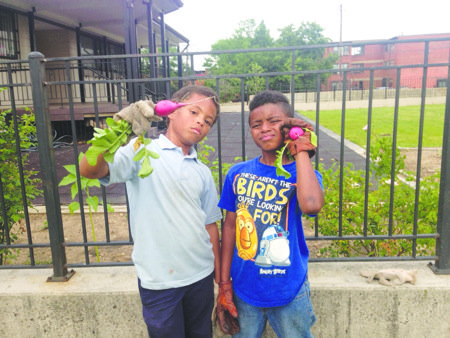 The debate about obesity has long focused on individual eating habits. In recent years, national programs and initiatives, such as first lady Michelle Obama's Let's Move! campaign, have encouraged Americans to adopt healthier lifestyles.
While some people, like Xavier Brown, don't question these efforts, they say that eating fresh fruits and vegetables often proves difficult for District residents that live in food deserts, neighborhoods where few, if any, nutritional food options exist.

"The discussion about healthy eating is null and void if people do not have adequate choices," said Brown, 28, director of urban agriculture at The Green Scheme, a nonprofit that promotes environmental sustainability, health awareness, and social justice in communities east of the river.
"Residents in Wards 7 and 8 don't really have an opportunity to eat healthy food. They only see carry-outs and fast food restaurants. For some people, the closest grocery store is miles away. If you don't have a car or bus fare, that's a long walk. Even if you can take the bus, you might not want to because you're tired after a long day at work."
That's why The Green Scheme teamed up with members of the Lincoln Heights Resident Council in 2012 to develop a sustainable healthy food source for Lincoln Heights residents: a community garden. This summer, novice gardeners will harvest several pounds of crops including apples, beets, lettuce, kale, oranges, peaches, strawberries, and snap peas, most of which they cultivated in flower beds shaped in the form of "LH," Lincoln Heights' initials.

Volunteers from The Green Scheme guided residents of various ages along a process that included testing soil for lead, building flower beds, planting seeds, watering plants, removing weeds, and harvesting fruits and vegetables on a plot of land overlooking townhouses and low-rise apartment buildings in the Northeast neighborhood.

Gregory Hill, a Lincoln Heights resident of 10 years, said that his neighbors have increasingly recognized the potential of the garden, now in its second harvest, as a viable food source.

"Many of us living in Lincoln Heights have a fixed income," said Hill, 60. "People have realized that they can use what grows out of the garden to save some money. We're all learning as we go. We work as a team and build trust with others. Our efforts have motivated other residents to join us," said Hill, who also serves as treasurer of the Lincoln Heights Resident Council.
Future horticulturalists like Donte Woodyard, 7, often rake grass and pull weeds to ensure that the crops stay healthy. A gathering of The Green Scheme volunteers and Lincoln Heights residents at the garden three years ago piqued Donte's interest in urban farming.

"I help plant the seeds and make sure that the crops are healthy," said Donte. "I'm out here every day. This is good for me because I get to take care of the plants and take cooking classes. I love seeing the crops grow. My mother and stepfather do not have to worry about me being bored in the house or [running around] outside," said Donte.