Garden Expands Healthy Food Options in Northeast Community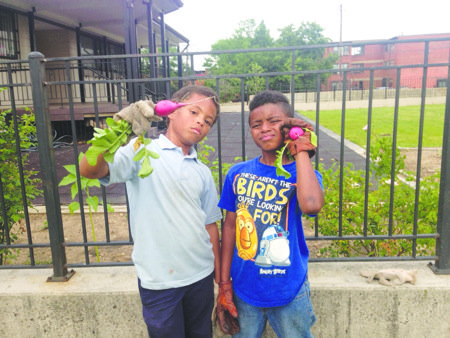 A 2013 report by DC Hunger Solutions, a Northwest-based program funded by the Food Research and Action Center, found that 30 percent of households with children in the District could not afford to purchase food.

Each week, a steady stream of parents and children visit the Lincoln Heights Family Enhancement Center where chefs prepare a variety of meals and snacks using the fruits and vegetables grown in the garden. More than 20 residents filed into a common area at the center on June 4 and learned how to make fruit smoothies. Children later nibbled on broccoli and carrots dipped in hummus.

Lincoln Heights resident Shyrie Forney watched as Darryl Perkins, vice president of local nonprofit Broccoli City Lifestyle Group chopped strawberries, kale, and pineapples before tossing them into a blender during a recent demonstration. Forney, who has lived in Lincoln Heights for nine years, said she often brings some of the children living in the neighborhood along with her to the weekly meetings on nutrition along with the chefs' demonstrations.

"Gardening's different from what the children usually do," said Forney, 35. "The older ones aren't too interested but I always grab the little ones with their parents' permission. This garden has been a breath of fresh air. It's something that they get to enjoy and it costs little to nothing," said Forney, a cosmetologist.
Since Ronnie Webb, a community organizer, and Joelle Robinson, a public health professional, founded The Green Scheme in 2011, it has helped residents in five communities east of the Anacostia River, including Benning Terrace and Wheeler Terrace in Southeast, start their own gardens as part of a project touted Code Green.
In 2013, The Green Scheme secured a $114,000 grant from the U.S. Department of Agriculture and received 17 fruit trees compliments of the Northeast-based nonprofit Casey Trees.

Webb, president of The Green Scheme, said that he hopes that residents will use the skills they learned long after volunteers leave.
"The people of Lincoln Heights built these gardens," said Webb, 28. "When we eventually leave the community, their garden committee can keep it going. We don't just educate them about the merits of healthy eating. We also show them how to self-advocate," said Webb who lives in Northeast.