Howard U. Students Connect with Community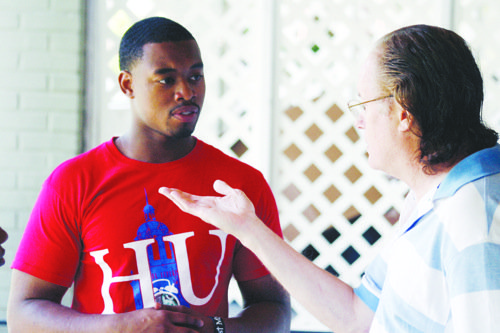 A group of students left the safety and comfort of their college campus and sparked discussions with local residents last weekend in an effort to strengthen ties with the community.
More than 30 students from Howard University (HU) in Northwest knocked on doors with clipboards and pens in hand and chatted with residents of the Pleasant Plains neighborhood throughout much of Saturday morning as part of a monthlong program known as the Howard University Summer Canvassing Project.
"We want to bridge the gap between Howard University and the community," said Leighton Watson, 21, president of the Howard University Student Association (HUSA).
"It has been eye-opening for students because they're often told to be careful about how they interact with the community. We broke down misconceptions and now we know what residents care about," said Watson, who hails from Grand Rapids, Michigan.
Howard University sits in the middle of the Pleasant Plains neighborhood, LeDroit Park, and the Shaw and U Street corridor. More than 40 percent of HU students live in three off-campus dormitories and nearby houses and apartments. In recent years, residents have raised concerns about noise from parties, a scarcity of parking spaces during major university events and a lack of events for community members.
Students representing a host of campus groups and black Greek letter organizations gathered at the flag pole on the HU campus quad, consulted with one another, and gulped cold water before splitting into small groups. Throughout much of the morning and early afternoon on June 14, volunteers interviewed residents on their porches and stopped neighbors as they walked down the street to ask about their experiences with HU students.
Some residents like Patrick Nelson described instances when rowdy students loitered in front of a house across the street from his residence for hours after a party ended. He said that while his previous encounters with HU students have been less than amicable, he appreciated the group's recent overture.
"I've lived here for 21 years and this is the first time that students have tried to reach out to me," said Nelson, 57. "It's long overdue. They should have done more to interact with the community. The house parties have gotten worse in the past year. I'm very interested to see what will come out of this project," said Nelson, a retired accountant.

Alex Venzor, a Pleasant Plains resident since 1992 and graduate of Banneker Academic High School in Northwest had no complaints about HU students. However, he said that the university should increase efforts to mentor local teenagers.
"There has been a schism between Howard University and the neighborhood for years," said Venzor, 32. "I think some students should take the time to learn about the neighborhood and become more involved."
HU student Adriyana Andreas said she has seen firsthand the merits of connecting with her neighbors. Andreas and her friend, Andrea Bush, knocked on doors for the second consecutive Saturday. They later attended a community meeting at Banneker Recreation Center in Northwest where Del. Eleanor Holmes Norton (D-D.C.) outlined her legislative accomplishments before a group of residents.
Andreas, a sophomore, said that participating in the summer canvassing project has changed her perception about residents that live in the Northwest community.
"Our peers always tell us to watch out when walking around," said Andreas, 18. "I was initially nervous but the people I talked to told me that they loved Howard University. That shocked me. I'm realizing that we have to make an effort if we want to feel comfortable in this community," said Andreas, who lives in Rockaway Township, N.J.
Plans for the Howard University Summer Canvassing Project jelled last month during meetings between Watson, Amanda Bonam, HUSA's community outreach coordinator, Anthony Driver, HUSA's director of external affairs, and Allyson Carpenter, ANC commissioner for Single Member District 1B10. Once the summer canvassing project wraps up at the end of June, students will plan outreach programs for the upcoming academic year.

"I wanted to connect neighbors with the students," said Carpenter who also attends HU. "This program gives us an opportunity to talk to the people and get students into the streets," said Carpenter, 18, a Cleveland native.
Capricia Galloway contributed to this report.