P.G. County Briefs: New Playground at Seabrook Elementary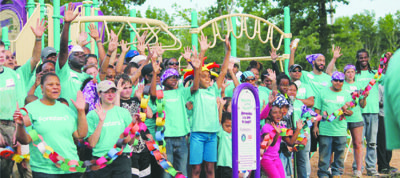 The Seabrook Elementary School community in Upper Marlboro has been revitalized with a new playground recently built on the school grounds.

More than 200 volunteers from Seabrook teamed up with staff from "KaBOOM!" a nonprofit organization in the District that ensures that children are provided with an active play area in their community and Foresters, a life insurance provider, credited for building the playground. The new play space will serve more than 15,000 children and their families in the local community for years to come.
"We are thrilled to partner with Foresters and "KaBOOM!" to provide children in this community with the opportunity to have the childhood they deserve, because play matters for all kids," said Kevin Maxwell, schools CEO. "In building this playground together, we are providing a safe and enjoyable environment to help them grow and thrive."
The playground's design resulted from drawings created by Seabrook students during a special Design Day event held in March.
Since 2006, Foresters has invested more than $10 million with "KaBOOM!" to build nearly120 playgrounds across the country and in Canada.
'MySchoolBucks' Payment Program
In an effort to provide an improved system of payment options, school officials are launching an electronic service that goes into effect Tuesday, July 1.
Once the "MySchoolBucks" online payment program begins, the Department of Food and Nutrition Services will no longer accept personal checks.
"MySchoolBucks" provides parents the ability to securely pay for meals, monitor student cafeteria purchases and make tuition payments for Before and After School Extended Learning programs.
With "MySchoolBucks" payments can be made at any time using a Visa, MasterCard, Discover credit card or a debit card.
Parents receive email notifications when account balances are low.
Scholar of the Week
Lillian Childress recently joined a list of her peers at the county's high schools as a "Scholar of the Week."
Lillian recently graduated from Suitland High School in Forestville, Maryland, with a 4.12 grade point average, and among an extensive list of subjects she has excelled in, are world literature, chemistry, math, Spanish, psychology and physiology.
Lillian's extracurricular activities included membership in the National Honor Society where she served as vice president, and the Young Innovators Club, where she served as secretary.
She has more than 500 community service learning hours, and in February had the honor of being recognized by the Rotary Club as the "Young American of the Month."
Lillian, a Posse Scholar, hopes to pursue a career in forensic chemistry and law. In the fall, she will attend the University of Wisconsin at Madison.
Four-Day Work Week
School system officials launched a 4-day work week schedule on Monday, June 16, with the schedule ending at the close of business on Friday, Aug. 8. However, the week of June 30 – July 4 will be a 3-day work week in observance of the July 4 holiday.
Otherwise, schools and offices will be open Monday through Thursday with more flexible hours during the summer months, with core business hours being 7 a.m. to 5:30 p.m.