MGM, Prince George's County Reach Landmark Deal
Stacy M. Brown | 6/18/2014, 11:59 a.m. | Updated on 6/25/2014, 3 p.m.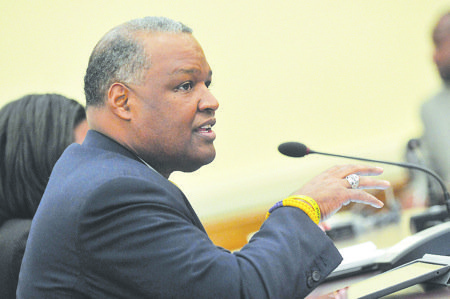 Local residents and minorities have been assured of receiving half the jobs slated for the $925 million MGM National Harbor Casino and Resorts expected to open in Prince George's County in 2016.
After months of negotiating, County Executive Rushern Baker and MGM officials reached a deal on June 17 that will guarantee millions of dollars in construction and procurement contracts for county businesses and members of the local Minority Business Enterprise; jobs for residents that will pay at least $80 million in wages; a rigorous compliance structure; and an industry-first Local Investment Program.
"The goals for local hiring and contracting in this agreement are both ambitious and fair," Baker said.
The agreement also contains provisions for a specific percentage of contracts to be awarded to minority-owned businesses during the construction phase of the development. "We feel this agreement manifests our commitment to create thousands of new local jobs and provide enormous economic benefits to the people of Prince George's County," said MGM National Harbor President Lorenzo Creighton.
The two sides hammered out the agreement as MGM hosted a career showcase – the company declined to refer to it as a job fair to display their commitment as a career employer and not a temporary hiring firm – at Bowie State University in Maryland that had an overflow crowd seeking a chance at employment with the popular gaming organization.
Because of the interest from local residents, officials relocated the showcase event from the smaller Oxon Hill Manor to Bowie State in order to accommodate potential employees.
"Our RSVP inbox became packed with responses when word began to spread about our career showcase," said Gordon Absher, vice president of public affairs at MGM Resorts International. "People are obviously excited about the prospect of starting a career with MGM National Harbor," Absher said.
William Davis, a Landover resident with construction and maintenance experience who's been out of work for 14 months, patiently waited for a chance to speak with recruiters at the event. He said he hoped that MGM would hire African Americans and local residents.
"I put my best foot forward and it's up to them," said Davis, 38. "A job won't come to you sitting at home so I went out there and tried to make it happen. They promised that I would hear from them within the next week, so we'll see."
MGM plans to build a world-class destination resort casino at National Harbor, which company officials said would create thousands of new, local jobs, and provide enormous economic benefits to the region.
"This is very important because for too long we've had big businesses come in here and the end result was that there's little or nothing that benefits our community," Obie Patterson, a county council member who represents District 8 in Prince George's County, said in an interview last month.
Patterson had pitched a Community Benefits Agreement of his own in an attempt to ensure that African Americans and local residents benefited from career opportunities as MGM prepared to build the massive, 1 million-square-foot development that will include a 21-story hotel, several restaurants and retail establishments, and an entertainment and concert venue.