Redskins Seminar Aids Local Students
Team Sponsors Educational Event at D.C. School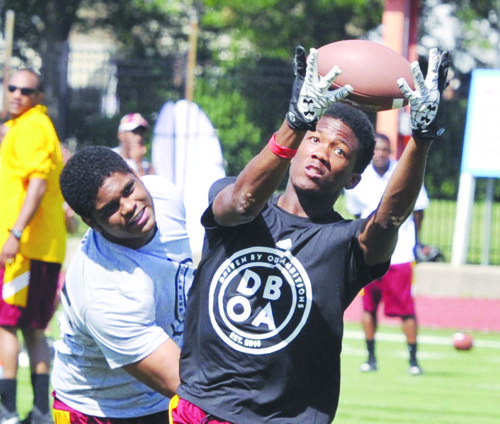 Subscribing to the theory that concentration means the ability to think of nothing at all, Kevin Proctor stared intently at personnel from the Washington Redskins, the NCAA, and recruiters as they spoke about the slim prospects of making it into professional football.
For Kevin, a 17-year-old running back at Northwest High School in Germantown, Maryland, the message couldn't have been clearer. "I'm focused and I'm just here with the hopes of becoming a better football player and going to Bowie State or another school and then, hopefully, to the NFL," Kevin said.
• CLICK HERE TO VIEW PHOTO GALLERY
The teen's father proved just as confident as his young son.
"We are here for Kevin to show his ability. He's a very focused young man with natural ability, a go-getter and this is in his blood," said the elder Kevin Proctor Jr., noting the family's relationship with former University of Maryland and Detroit Lions standout Kevin Glover.
The father and son duo sat among the 280 students and others inside the gymnasium of Coolidge Senior High School in Northwest on Saturday, June 14, for the Redskins-sponsored "Driven By Our Ambitions Educational Seminar & Football Camp."
With an array of educational and financial instruction already covered during the daylong event, students and many of their parents appeared most excited about hitting the gridiron where Redskins' personnel eagerly awaited a chance to show the young hopefuls how it's done on the field in professional football.
Drills such as the 40-yard dash, where speed and explosive first steps are watched closely by recruiters and scouts and clocked by timekeepers, served to pump up the athletes, their parents and friends who came to support the high school students.
"I'm hoping this gives my son more exposure. I want him to understand that we're using sports as a tool to move forward academically and otherwise, but this is a great program," said Thomas Riddick, Sr., whose son, Thomas Jr., attends Friendship Collegiate Academy Public Charter School in Northeast.
Jeffrey Keane, a sophomore at Damascus High School in Montgomery County, Maryland, said he wanted to test his skills in a vertical jumping drill so that he could show off his ability to intercept passes thrown by some of the NFL's best, including Redskins' star, Robert Griffin III.
"I'm a free safety and I want to be in the NFL one day and prove that I belong there and do well," said Jeffrey, 16.
Sponsored by the Redskins Foundation, team employees Daniel Sampson and Mike Adams conceived of the event as a tool to help instruct prospective college student-athletes about the importance of financial stability, eligibility rules, and the college recruiting process. They also stressed the significance of knowing the fundamentals of one of America's favorite pastimes.
"[Adams and I] decided that the best approach to showcase to student-athletes how important education is to the overall process of having the opportunity to continue playing on the field beyond high school was to have an educational seminar and football camp," said Sampson, the team's assistant director of communications.