Ruby Dee Remembered for Remarkable Life
Actress, Activist Praised by Celebrities, Politicians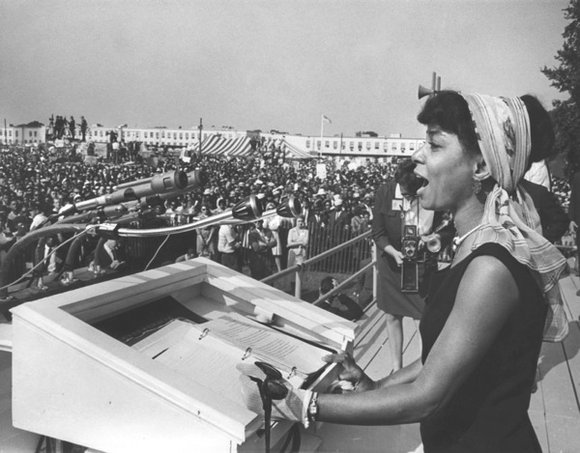 Plans have yet to be finalized for the private funeral of legendary actress and activist Ruby Dee and details of a public memorial are still being discussed.
It only stands to reason that such arrangements require substantial time as Dee, who died on June 12, at her home in New Rochelle, New York, had quite the fan base and many admirers around the world.
Any memorial service, public or otherwise, would certainly rival that of a head of state or decorated war veteran.
"We lost a jewel, Mrs. Ruby Dee. So great, so loved," said actor Samuel L. Jackson, who worked alongside the Emmy, Grammy and Spingarn Medal recipient in director Spike Lee's 1991 film, "Jungle Fever."
Lee, who also directed Dee in his 1989 film, "Do the Right Thing," said the actress left a lasting and uncompromised legacy in film, spoken word, and activism.
"It has been one of my great blessings in life to work with two of the finest artists and activists, Ruby and Ossie Davis, who were in the battlefields with Paul Robeson, Malcom X, and Dr. Martin Luther King," the filmmaker said. "Ruby and Ossie served as a living example that one could be an artist and still deal with what it means to be a black woman and a black man in these United States."
President Barack Obama, talk show host Oprah Winfrey, and Attorney General Eric Holder also counted among the myriad politicians and celebrities to offer remembrances of Dee.
Locally, fans of the elegant superstar and others around the District took time out of their hectic and harried lives to express their appreciation for Dee's unwavering commitment to the common man.
"When you understand that she lived 91 years, you get a better appreciation that the good does sometimes outlast the bad because Ruby Dee not only stood for what was good, but she fought for it and did so openly when it could have cost her an acting career and millions of dollars," said Charles Smith, a Potomac, Maryland resident who attended a Washington Redskins educational seminar and football camp with his son, David on Saturday, June 14.
"You won't find many who would be willing to sacrifice what they have for the betterment of strangers, people she couldn't have known," said Smith, 48.
Dee grew up in Harlem, New York and, in 1941, she joined the American Negro Theatre, a repertory company best known for launching the careers of Harry Belafonte and Sidney Poitier, whom she'd later appear opposite in the groundbreaking Broadway play, "A Raisin in the Sun," in 1959.
She earned the National Board of Review Award for Best Supporting Actress in, "A Raisin in the Sun," an original production by Lorraine Hansberry.
Dee appeared in more than 100 films and television shows, earning numerous awards and recognition.
She and Ossie Davis, her husband of 57 years, stood tall during the civil rights movement, working for the ideal of racial equality and freedom for all.
The couple stood shoulder-to-shoulder with King and others during the many marches and demonstrations of the 1950s and 1960s.