Youth Summit Targets Alcohol, Drug Abuse
Partnership Seeks Ways to Keep Young People Safe
D. Kevin McNeir | 6/18/2014, 3 p.m.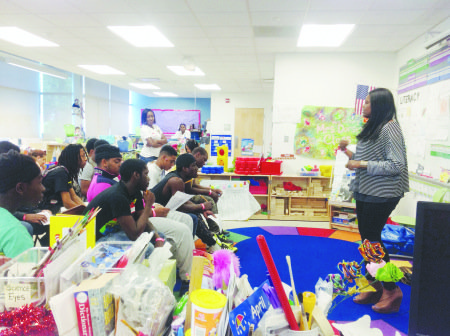 The challenges facing today's youth can sometimes be overwhelming particularly for those living in America's fast-paced concrete jungle.
However, through creative partnerships, many young adults are discovering effective methods to steer clear of crime, drugs, alcohol and premature sexual activity.
"The youth who attended this year's summit said that the workshops and entertainment were positive, rewarding and a great start to their summer," said Rosalind M. Parker, director of the Wards 7 & 8 DC Prevention Center in Northeast. "It's the first time we've combined previously separate events that kickoff summer vacation for young adults and this time the youth chose the topics for discussion," said Parker, 45, a third-generation Washingtonian.
The No Time for Crime, Drugs or Alcohol Youth Summit took place at Savoy Elementary School in Southeast on May 24, Memorial Day weekend. About 100 youth and 50 adults, including parents, participated in the daylong event, now marking its ninth year.
Workshops for the summit, planned and developed by the youth, included: Who You Rep? – Violence, Bullying and Gang Involvement; Getting Buzzed and Killing Your Brain Cells – Underage Drinking, Marijuana and Other Drugs; Hygiene, Appearance and Nutrition; Empowered Parents; and Sex, Sexual Health and Sexuality.
One youth, with her high school diploma in hand, said that while the day provided numerous opportunities to have fun, the summit, and other similar programs, must help change the way the Southeast community views itself.
"We got great positive feedback from the youth that came out and they all got a lot more than they expected," said Simone Banks-Mackey, 17. "Drugs, alcohol and especially smoking are still problems for youth. But at least we're talking about these challenges more. Change can come in a variety of ways so every outreach effort helps."
D.C. native Anwan "Big G" Glover from 93.9 WKYS-FM served as the keynote speaker for the event. Glover, a featured actor on the popular HBO series "The Wire," also addressed the importance of finding alternative methods for conflict resolution other than violence. Performers included T.O.B Band and Show, Main Girl and Young Motive.
A senior who attends Ballou High School said many of his friends that showed up seemed surprised to have learned so much.
"Some kids are having sex and so they need to protect themselves from HIV or STDs so I helped pass out condoms," said Damone Nickens, 17. "For some this was the first time they could get tested and as a prevention outreach worker at Sasha Bruce, I encourage my peers to see a doctor every three to six months. This is part of our reality."
Sponsors for the summit included: the Metropolitan Police Department; the Far Southeast Family Strengthening Collaborative, Inc.; the Ward 8 Drug-Free Coalition; and the Wards 7 & 8 DC Prevention Center.
"We had some dedicated sponsors that are leading the way in crime prevention, drug and alcohol awareness and safe sex initiatives in Wards 7 and 8," Parker said. "We hope that we can one day make this a citywide summit."