Dream Academy's Annual Gala Raises Over $1M for Programs
usadreamacademy.org | 6/19/2014, midnight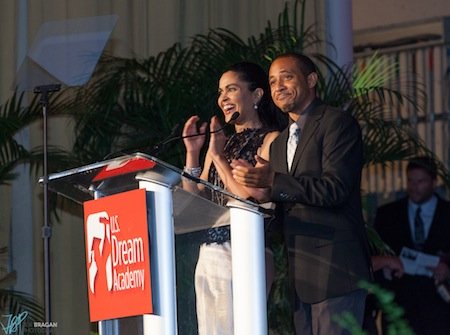 COLUMBIA, Md. — The U.S. Dream Academy celebrated its 13th annual "Power of A Dream" Gala on Wednesday, June 11 at the Washington, D.C. Hilton Hotel. This year's Gala, themed "Dream Big", presented by Amway and chaired by Chad Williams (Chairman and CEO, QTS) raised over 1 million dollars. Distinguished honorees for the President's Award included, The Honorable Chaka Fattah (U.S. Congressman, PA.), Andrew M. Bertamini (Wells Fargo Regional President) and Britt Worldwide Charities. Ben Zander from the US Dream Philadelphia Learning Center was honored posthumously as Mentor of the Year.
The event hosted 450 guests and funds raised will benefit the U.S. Dream Academy's nationally recognized after-school programs. The Dream Academy Learning Centers are in 8 communities across the country and have served over 7,500 students in high risk neighborhoods . Their mission is to empower children who are at risk of incarceration to maximize their potential by providing them with academic, social and values enrichment through supportive mentoring and the use of technology, the program is built on 3 pillars- skill building, character building and dream building. Each year the Power of a Dream Gala attracts the support of Hollywood celebrities, political figures, corporate executives, community leaders, and VIP's to invest in and raise awareness for those children in need.
Hollywood actress Ion Overman (Port Charles, Madea Goes to Jail) and actor, producer Dale Godboldo (Thor, Year of the Dog and Lakeview Terrace) hosted the special event. It kicked off with a favorite moment of the night, a special heartwarming artistic dance and singing performance of Pharrell Williams' song, "Happy" with the U.S. DreamKids and guest soloist Matthew Schuler (finalist and audience favorite from NBC's "The Voice" show), who also spent quality time with the kids in advance to rehearse and give them tips on singing. There was also powerful performances from two-time Grammy Award Winning Ann Nesby, U.S. Dream Academy Founder, President and CEO Wintley Phipps.

Special guests included Jody Victor (Chairman, U.S. Dream Academy, Board of Directors) and Barry Black, Chaplain for the United States Senate, who gave the invocation. Additionally Heather Foster, Advisor from the Office of Public Engagement for the White House, shared remarks regarding the President's new initiative, My Brother's Keeper, which could impact these children's lives. Miss America's Outstanding Teen made a special appearance and inspired the DreamKids. The evening ended on a high note with Ann Nesby singing "I Believe" and Founder Wintley Phipps joining on stage for a collaborative performance and sharing a powerful message on the importance to make a commitment to continue to make a difference in these children's live.
Amway served as the Presenting Sponsor of the gala for the fourth consecutive year. Additional sponsors that contributed to make this fundraiser successful include; USAFunds, Southwest Airlines, BWW Charities, MarkerMan, IBOAI, QTS, Wells Fargo, George and Joan Johnson, Adventist Health, Bank of America, BWD Group, Florida Hospital, Goldman Sachs, Greg and Jacquie Francis, Insurance Advantage, JE Dunn Construction Company, Kelly and Associates, Matthews Family Charitable Trust, TASC Inc., Team Scotti/HighMark, Centric TV, Cal Ripken Foundation, David Williams, First Pic, Lockton Companies, Regions Bank, RR Donnelley, STIFEL, Proviti and USBank.
Website: usdreamacademy.org
Facebook: facebook.com/USDreamAcademy
Twitter: @US_DreamAcademy